Schaeffler expands precision bearings, motors and gearbox ranges for machine tool applications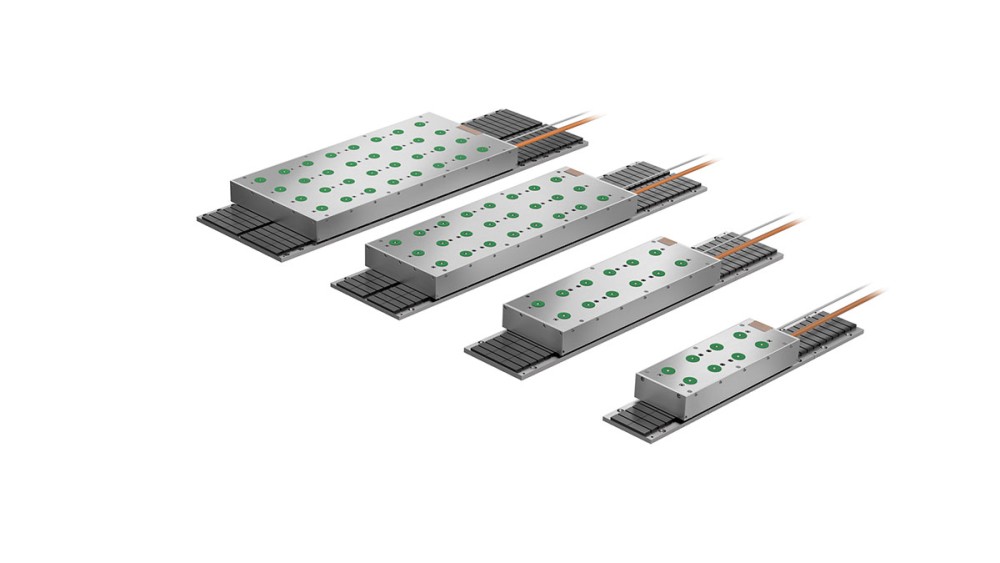 2023-10-09 | Birmingham
New sizes of rotary table and rotary axis bearings
Super precision cylindrical roller bearings: new cage construction simplifies pneumatic oil lubrication and leads to a more uniform temperature behaviour
Torque motors of the RKIB-series up to size 690 available as standard
New in the portfolio: precision strain wave gears and precision planetary gearboxes
Schaeffler is meeting the challenges of the machine tool industry with new automation solutions that are characterised by even greater dynamic characteristics, precision, energy efficiency, and longer machine runtimes. To achieve this feat, Schaeffler has significantly expanded its range of machine tool components.
Axial/radial rotary table bearings up to 650 mm
Two new YRTS-series axial/radial bearings in sizes 580 and 650 now complete the range. These rotary table bearings are double-direction axial bearings with a screw mounting facility and a radial guidance bearing. They are very rigid, have a high load carrying capacity, and run with particularly high accuracy. Series YRTS is optimised for use at very high speeds and runs with low, uniform frictional torque across the whole speed range, making it particularly suitable for use in combination with high-speed torque motors.
Torque motors with an air gap diameter of up to 690 mm
As a fitting accompaniment to the size increase in the rotary table bearing range, Schaeffler will now be offering its torque motors from the RKIB-series up to size 690. The range now includes air gap diameters from 298 to 690 mm.
Linear motors up 24,300 N
With the release of the new L7 series in twelve sizes, Schaeffler is expanding its range of linear motors with peak motors of up to 24,300 N, with the result that Schaeffler linear direct drives can now be used to a considerably greater extent both in handling systems and in the main axes of machine tools. Compared with the current benchmark, the water-cooled, high-efficiency L7 linear motors offer a reduction of up to 50% in the power loss with the same drive force or an increase of up to 40% in the nominal force compared to the current benchmark.
New precision gearboxes and drives
Within just a few years, Schaeffler has expanded its range of precision bearings and direct drives for machine tools to include two types of precision gear unit – precision strain wave gear series RT1 and RT2, and precision planetary gearbox series PSC. While the RT strain wave gears cover a maximum torque range of 28 to 484 Nm across five sizes, the PSC gearboxes start at 327 Nm, with the smallest gear size of 030, and end at 5000 Nm. Courtesy of the overlap in series between 327 and 484 Nm, machine manufacturers have the option of selecting the gearbox design and size that best suits their requirements profile.
Precision strain wave gears of series RT1 and RT2 are particularly suitable for driving small swivel axes, for use in the A axes of milling heads, and for driving milling tables used in the machining of light metals, wood materials, and plastics.
The compact dimensions, high rigidity, and hollow shaft of PSC-series precision planetary gearboxes make them suitable for driving both milling heads in the C axis and larger swiveling rotary tables – applications in which they also take on the task of supporting the swivel axis in conjunction with the integral main bearing. With the PSC range, Schaeffler now also covers drive solutions beneath the direct-drive swivel tables. In addition to demanding, dynamic five-axis simultaneous milling operations, other applications include precise five-sided machining with a highly cost-effective and precision drive that has been subjected to large-scale testing.
Favourable temperature behaviour due to new cage design
The single row cylindrical roller bearing series N10 and double row cylindrical roller bearing series NN30 (ribs on the inner ring) and NNU49 (ribs on the outer ring) are an established part of Schaeffler's super precision range. They are used in applications where the highest precision is required under very high radial load. One typical area of application is providing radial support for the main spindle. The N10 series has new internal geometry and a new cage made from PEEK (suffix PVPA1-XL). The optimised cage – like its predecessor, which was also produced from PEEK – ensures particularly low friction, a low noise level, and less strain on the lubricant, making it the preferred material choice for use in high speed cylindrical roller bearings. Further benefits include a longer grease operating life and higher limiting speeds.
Unlike other cage designs on the market, the cage in the new N10 series is guided unilaterally on the outer ring, leading to a more rapid grease distribution cycle with lower maximum temperatures and to a lower bearing temperature level with smaller scatter. As a result, the non-locating bearing function is more reliable even in the highest speed ranges.
Hybrid cylindrical roller bearings with half the number of rollers
In hybrid cylindrical roller bearings of series N10, the rollers are made from a high performance ceramic. In addition, the number of rollers is halved. This bearing variant is characterised by even less friction and wear, significantly reduced strain on the lubricant, and considerably lower temperatures in the bearing. When these hybrid bearings are used, spindles and machinery achieve a considerably longer life and the systems are significantly more viable. Ceramic rollers also lead to increased rigidity in both static and dynamic terms, which has a positive effect on the final machining quality.
Publisher: Schaeffler UK
Country: United Kingdom
Share Page