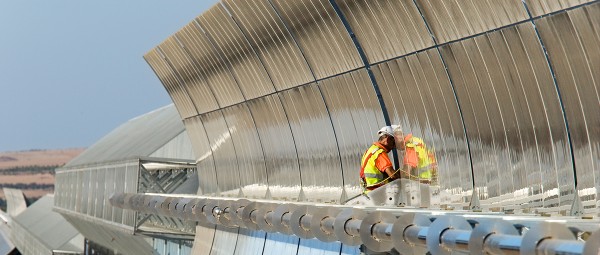 Photovoltaic Plants with Tracking Systems
Tracking systems for photovoltaic plants considerably increase the efficiency of the process of collecting the sun's energy. In conventional widths, photovoltaic plants with tracking systems facilitate an increase in performance of up to 40% compared with static units. Movable units, however, can generate maintenance work that can reduce the cost-efficiency of a project.
The basic principle of high reliability at low costs therefore applies.
High pricing pressure demands cost-effective solutions from high volume production, for example. Our AXS series angular contact roller bearings, which are manufactured using forming methods, can be integrated into existing and new designs and facilitate compact bearing supports that are lubricated for life. Maintenance-free INA metal-polymer composite plain bearings with favorable emergency running characteristics are another cost-effective example.
Photovoltaic concentrator power plants focus the sun's rays on highly-efficient multiple solar cells and, as is the case with solar thermal plants, require very precise tracking systems. For example, compact worm gears are used to adjust the position of the plant to an accuracy of tenths of a millimeter. Schaeffler engineers consider this unit as a system and select the optimum bearing while considering all operating conditions using Bearinx, a calculation program developed in-house.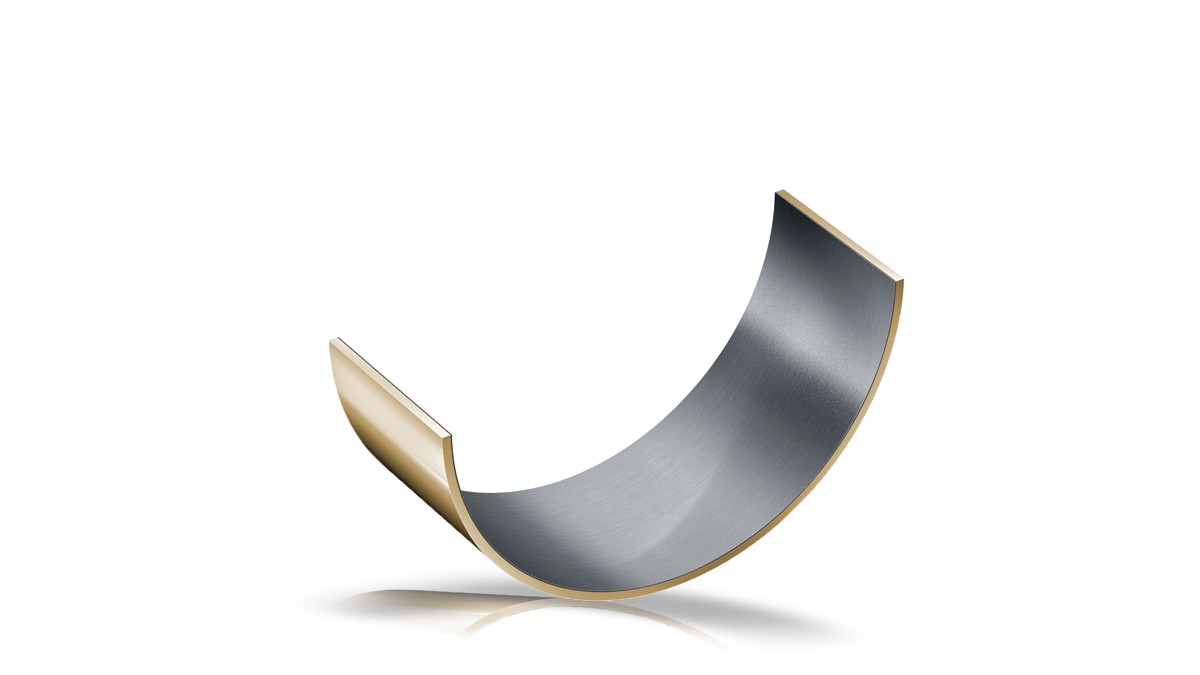 Metal-polymer composite plain bearings
Metal-polymer composite bearings are a cost-effective alternative for applications with minimum available space and a comparatively high sliding speed. In solar power plants, they can be used in the bearing supports of tracking systems, for example in the elevation axis. Our plain bearings are available as bushes and flanged bushes, as well as thrust washers, half-shells, and strips.
Advantages:
Low maintenance or maintenance-free
Wear-resistant
Constant low friction values throughout the whole operating period
Plain bearing bushes with ELGOTEX
Plain bearing bushes with ELGOTEX are resistant to shocks and tilting. Customer-specific solutions with special dimensions or special tolerances, for example, are available on request. The bearings are available with and without integrated seals.
Advantages:
Maintenance-free
Extremely robust
Very good damping behavior
Low wear with a constant friction value (dry lubrication)
Resistant to contamination
Corrosion-resistant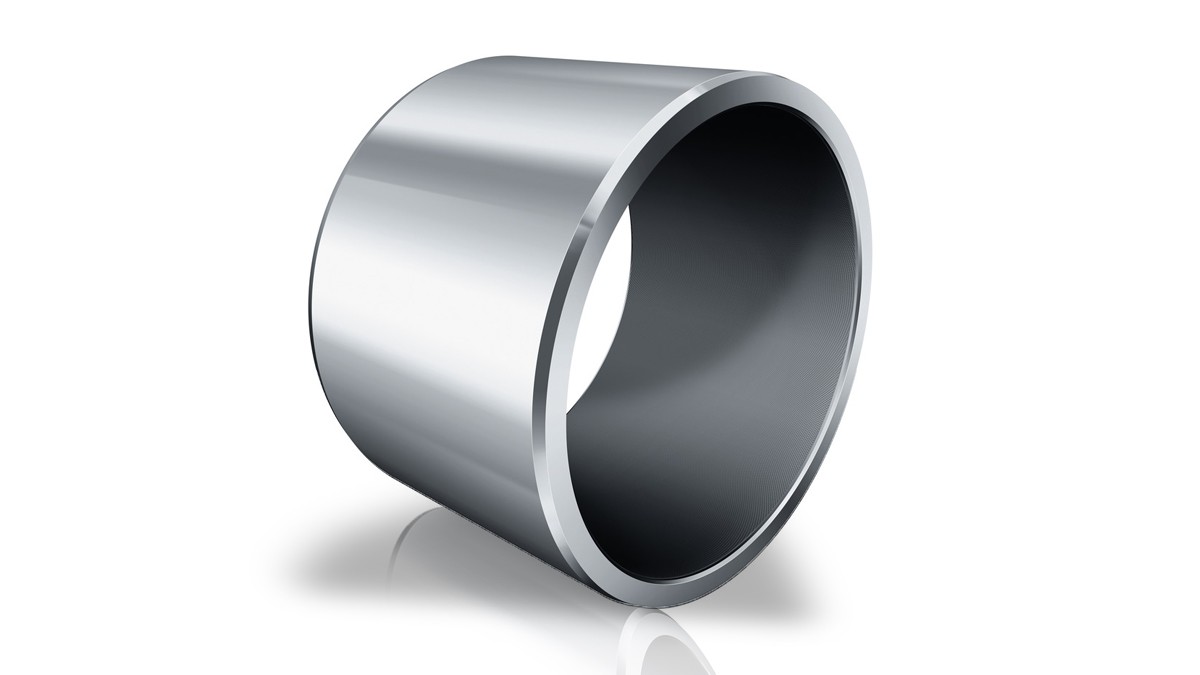 Plain bushes with ELGOGLIDE
Plain bushes with ELGOGLIDE have excellent damping behavior. Bearings with an additional coating applied to the steel support body as anti-corrosion protection are also available. These plain bearing bushes are also available with integrated seals.
Advantages:
Maintenance-free
Extremely high static and dynamic load carrying capacity within a small design envelope
Dry lubrication
Very low friction
Very low breakaway torque without the "stick slip" effect
INA spherical plain bearings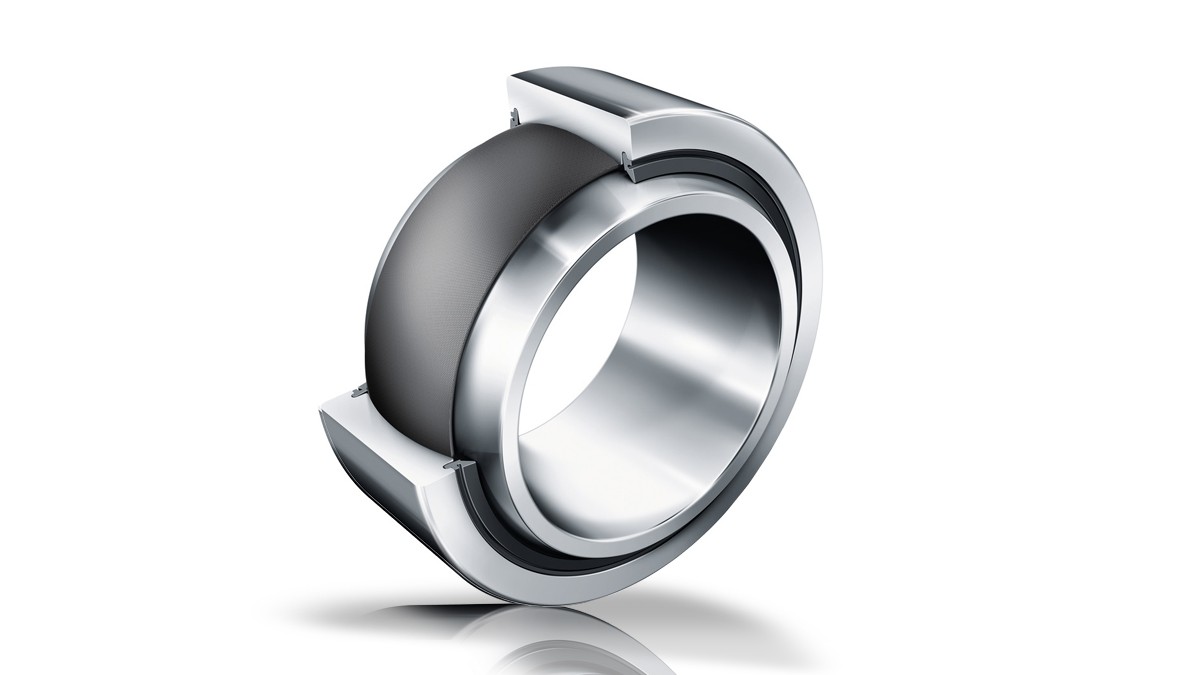 Maintenance-free spherical plain bearings
Maintenance-free spherical plain bearings are used as dry plain bearings for precise swiveling motion of parabolic troughs without stick-slip. Different ELGOGLIDE and PTFE sliding layers as well as designs with an additional anti-corrosion coating are available depending on the application and loads.
Advantages:
High load carrying capacity and low weight
Very suitable for slow and precise swiveling movements
Long rating life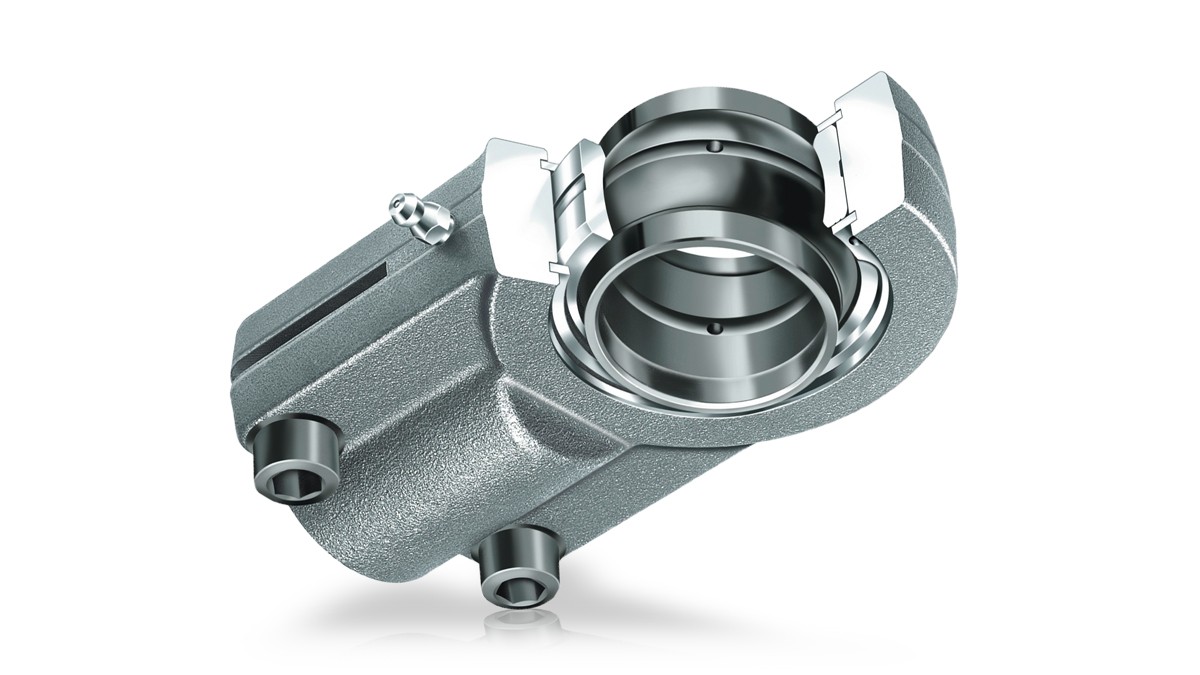 Spherical plain bearings requiring maintenance
Bearings requiring maintenance must be lubricated due to the steel/steel or steel/bronze sliding contact surface. When designing the bearing support, it must be ensured that the bearing position can be adequately supplied with grease. These bearings are available as radial, angular contact and axial bearings.
Advantages:
Wide product range
All lubricants for initial greasing are tested before use in our in-house lubricant laboratory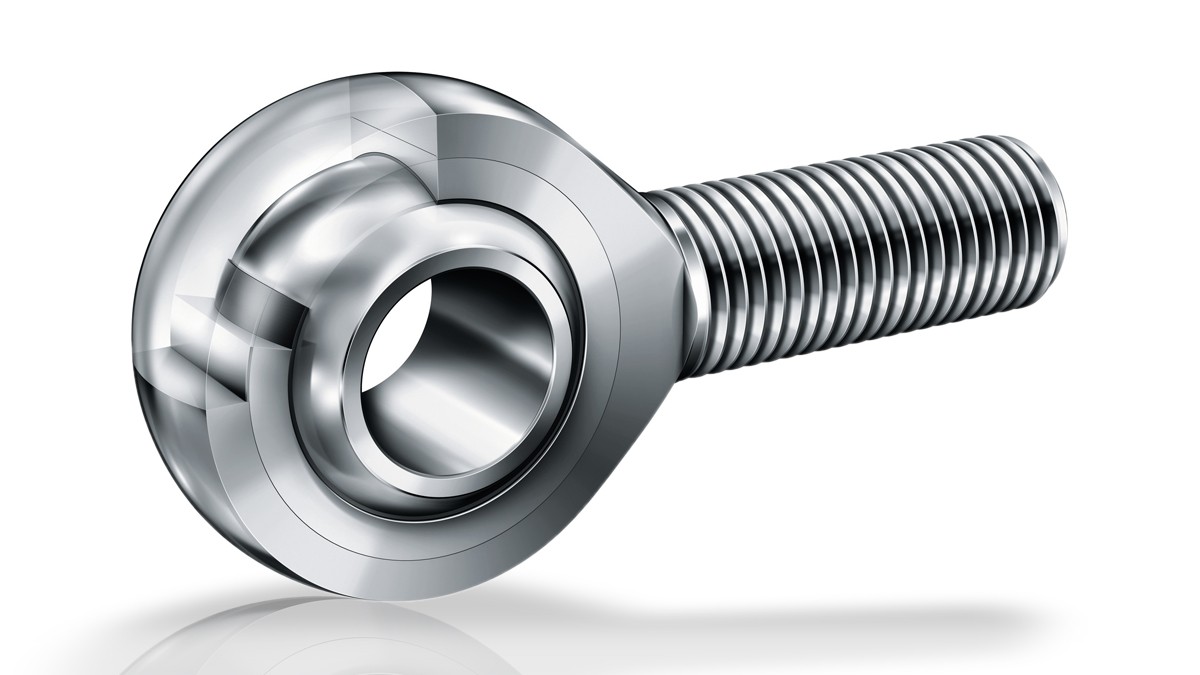 Rod ends
Rod ends are used as linking elements in levers, linkages, and hydraulic and pneumatic cylinders. They support radial loads in a tensile or compressive direction. Rod ends are available with internal or external threads as maintenance-free variants or variants requiring maintenance.
Advantages:
Corrosion protection
Can be clamped or welded
INA axial angular contact roller bearings
With its AXS axial angular contact roller bearings, Schaeffler has developed a bearing series with a particularly small cross-section that is capable of supporting very high loads.
Typical applications are reflector adjustment systems. These rolling bearing supports facilitate the movement of the azimuth and elevation axis in double-axis drive units.
Axial angular contact roller bearings AXS comprise thin-walled drawn bearing rings and injection-molded plastic cages with cylindrical rollers. They can support axial forces as well as radial forces and tilting moments. When fitted in pairs, they can transfer very high loads safely. Axial angular contact roller bearings are suitable for O and X arrangement.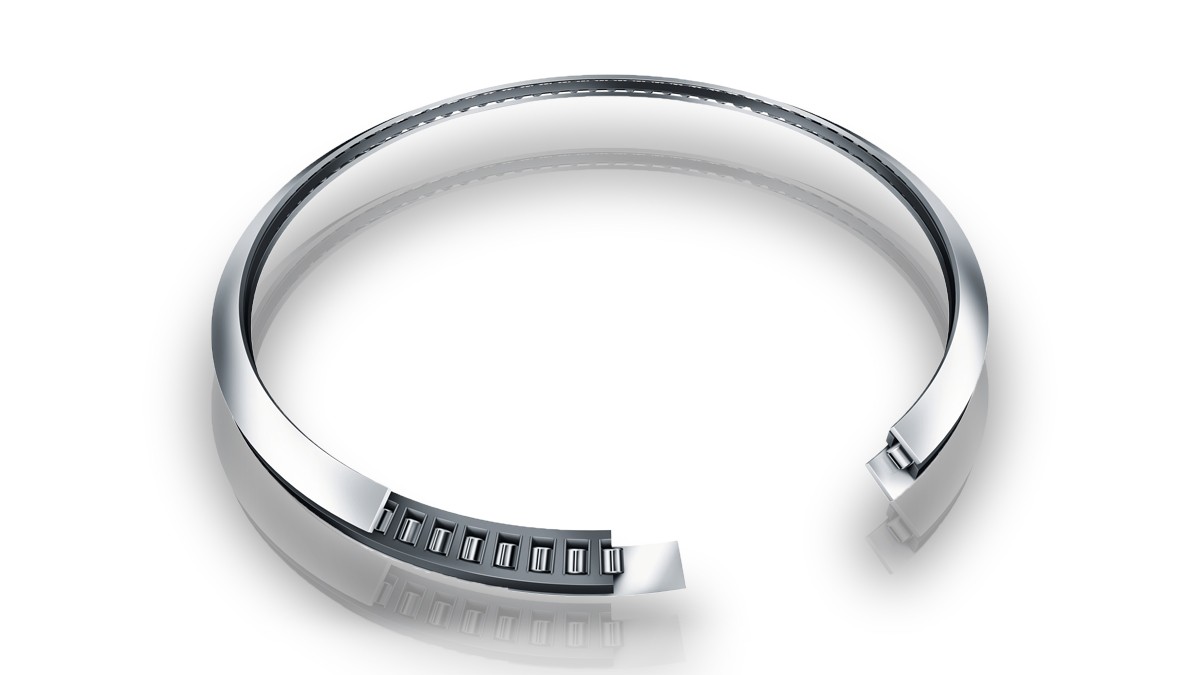 Advantages:
High load carrying capacity and rigidity
Precise guidance accuracy
Small axial and radial design envelope
Especially suitable for low speeds
INA slewing rings are used in solar power plants for the precise alignment of particularly large reflectors and collectors, for example in double-axis tracking systems with two separate drives. In the case of separate drives, slewing rings are used in the bearing supports of azimuth axes.
INA slewing rings are known worldwide as premium products in the field of rolling bearing technology. A single bearing can reliably support radial, axial and tilting moment loads. It is therefore possible in many cases to replace bearing supports comprising a combination of radial and axial bearings by a single bearing, despite the high loads involved. This reduces, in some cases considerably, the costs and work required in the design of the adjacent construction and the fitting of bearings.
Slewing rings are sealed on both sides and lubricated with high-quality lubricating grease. They can be lubricated via lubrication nipples. The bearing rings are supplied without gear teeth or, in order to achieve simple drive solutions, are available with external or internal gear teeth. Customer-specific special solutions are also possible. INA slewing rings are available as single or double row four-point bearings as well as crossed roller bearings.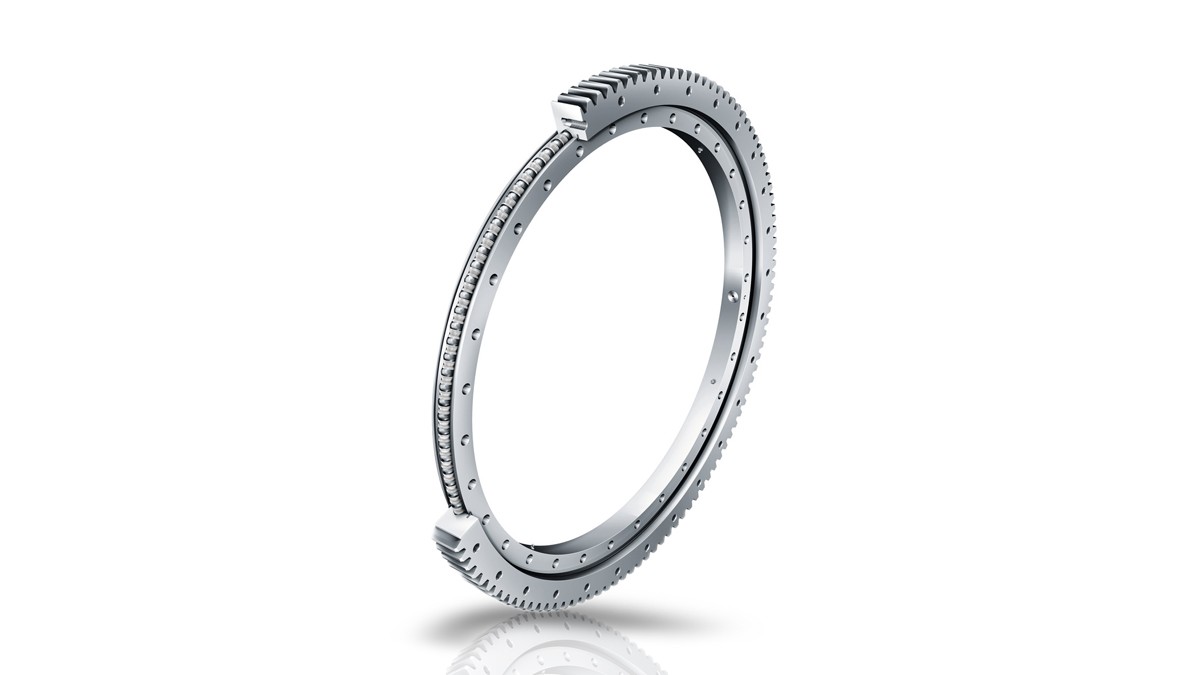 Advantages:
High load carrying capacity and rigidity
Very cost-effective
Extremely versatile
Easy to fit
INA radial insert ball bearings and housing units
Depending on the power plant involved, radial insert ball bearings and housing units of cast iron, sheet steel and plastic are used to support the elevation axis in single-axis tracking systems. These bearings are available in various designs with anti-corrosion protection, for example with Corrotect® coating. INA radial insert ball bearings and housing units are filled with lithium soap grease that is especially resistant to corrosion and aging. They are also available with square and hexagonal bores. To make the mounting process easier, split housings are also available that can also be used with various plain bearing types.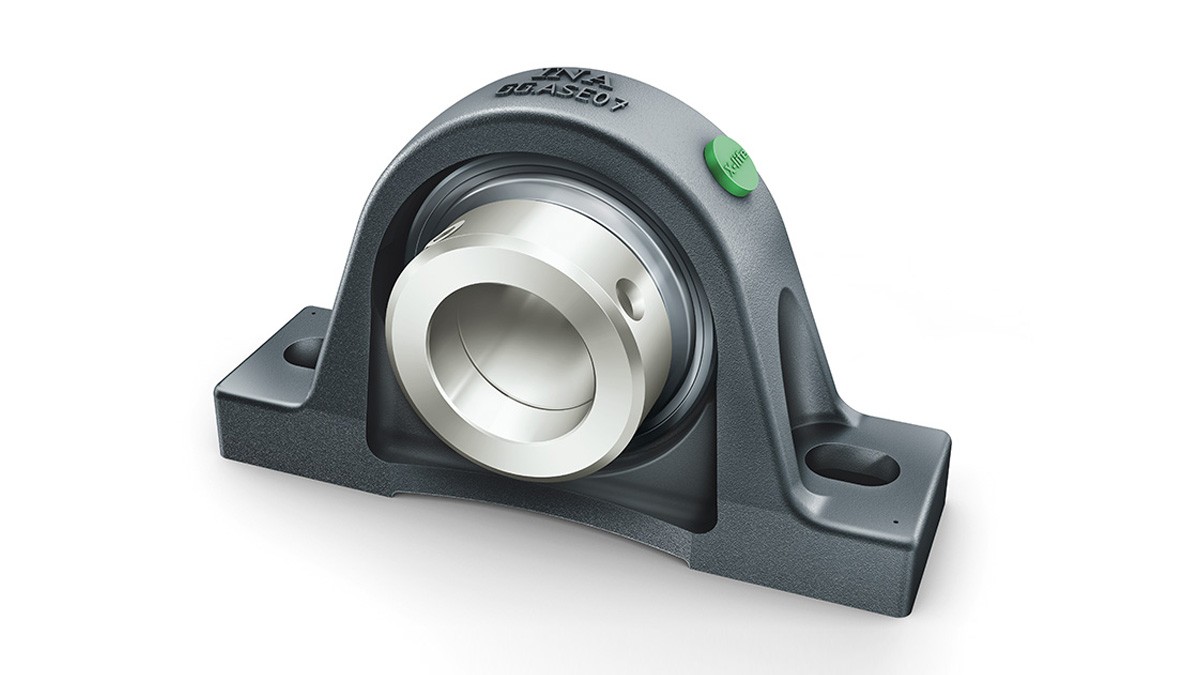 Advantages:
Particularly economical - without engineering compromises
Easy to fit
Robust and reliable
Prevention of shaft misalignment due to self-alignment facility
INA track rollers are used on the rail systems for adjusting the azimuth axis of solar modules or for swiveling the parabolic mirrors. They are used in photovoltaic, Stirling and solar tower power plants. The rollers are designed as needle roller bearings, ball bearings or plain bearings. These bearings can also support high radial forces and axial forces in both directions. Our INA track roller range comprises more than 3,000 basic designs for all current applications.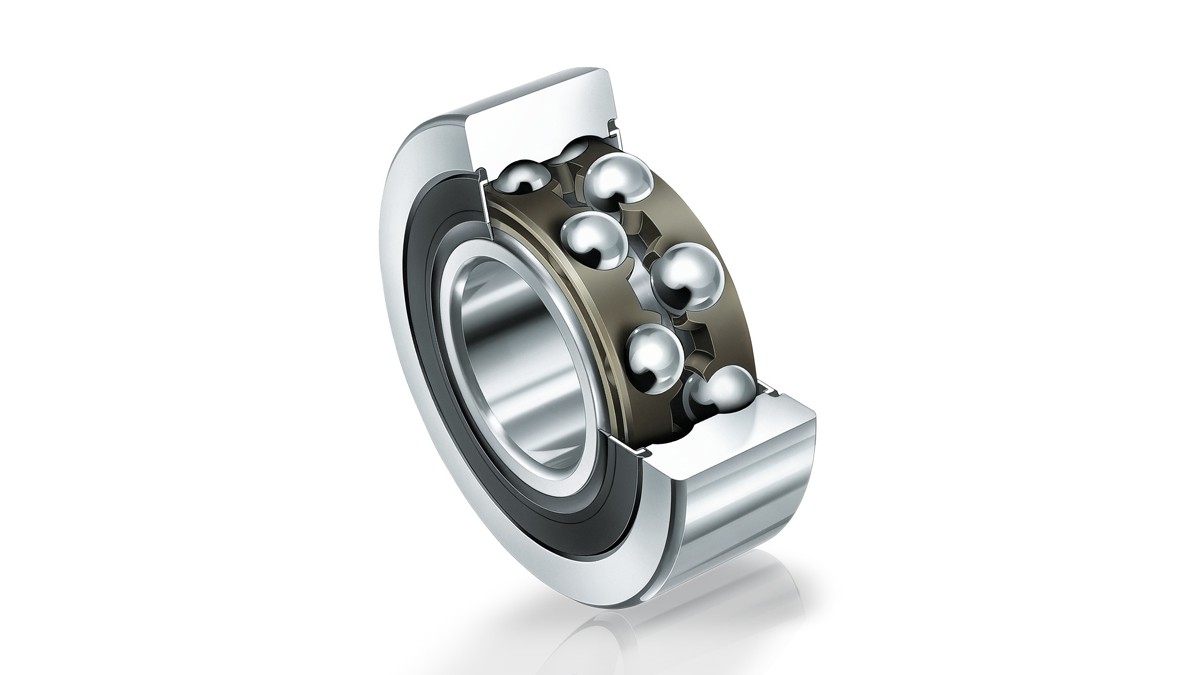 Advantages:
Compact and small design
Reliable and resistant to wear
Low maintenance or maintenance-free
Above all, the technical superiority of INA track rollers compared with conventional components is due to the lower contact pressure.
Share Page