Schaeffler at EMO 2023 in Hannover (Hall 7, Booth A10)
More precision, dynamics and efficiency: Schaeffler presents new drive solutions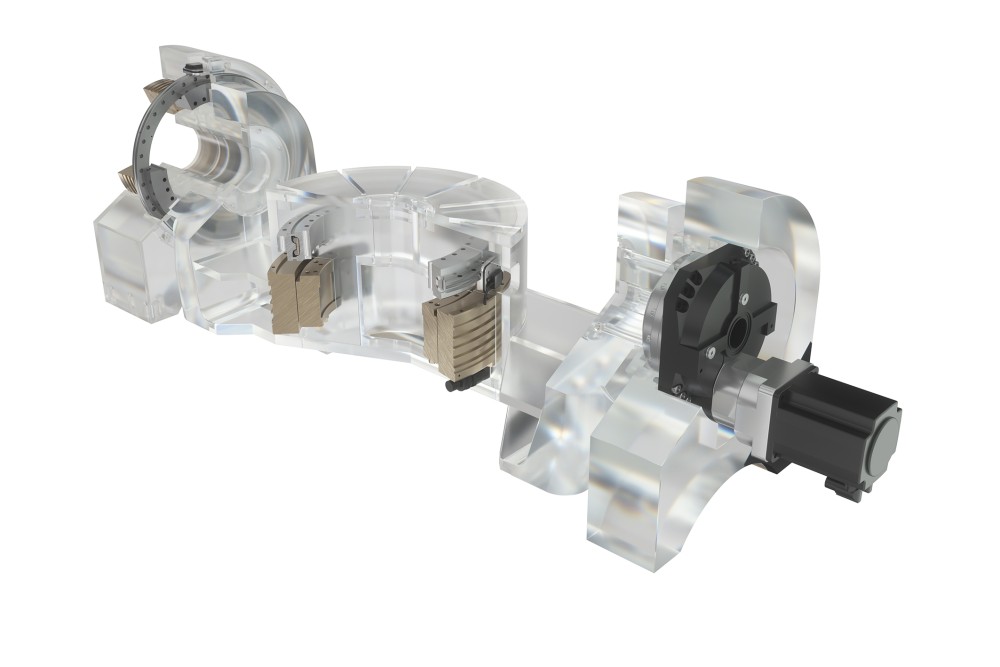 2023-08-29 | Birmingham
New solutions for direct-drive swiveling rotary tables, bearings with integrated angular measuring systems and precision gear units
Spindle bearings for every application
New automation solutions with exceptionally rigid, backlash-free, precision gear units and drives
Just as in other industries, rising energy and material costs, as well as a shortage of skilled labour have become increasingly important for the machine tool sector. Schaeffler is meeting these challenges with new automation solutions that offer even greater dynamics, precision, energy efficiency, and longer machine operating times. To address these needs, Schaeffler is presenting a comprehensive array of product and system solutions at the EMO 2023 trade show, which takes place September 18-23 in Hannover, Germany.
As Ralf Moseberg, Senior Vice President Industrial Automation at Schaeffler, explains: "The machine tool industry was remarkably quick to recognise these current developments as an opportunity, and responded accordingly. Within this context, customers are particularly focused on reducing electricity, air, and lubricant consumption along with increased domestic sourcing. Investments are geared toward optimising machine service life and capacity utilisation, as well as being able to use production equipment more flexibly with the help of new automation solutions. Robots and cobots – especially with respect to ROI – along with the development and application of new technologies such as direct-drive systems, play a key role here."
Innovative drive concept for swiveling rotary tables
An attention-grabbing exhibit at the Schaeffler booth in Hannover is a direct-drive swiveling rotary table (SRV- and RKIB-series motors). On one side, a direct drive with a YRTCMA-series axial-radial bearing is utilised to drive the swiveling rotary table. In this case, "MA" designates the inductive, absolute value angular measuring system that has been integrated into the bearing. The other side, for demonstration purposes, features an innovative, newly designed drive for pivoting axes: a PSC precision planetary gear unit with a servomotor. The torsional backlash of just 0.1 arc minutes, which remains constant over the device's operating life, makes it possible – for the first time ever – to dispense with a second drive for tightening and eliminating the backlash. The exhibit positions the two solutions across from each other, enabling them to be readily compared and discussed.
Spindle bearings for every application
Schaeffler will also present its expansive spindle bearing portfolio at EMO 2023, which consists of axial angular contact ball bearings with small, medium, and large balls, as well as cylindrical roller bearings. With this range of high precision bearings – for which various rolling bearing steels, cage designs and ceramic rolling elements are also available ¬– Schaeffler can offer the right bearing configuration for virtually any turning, milling, or grinding spindle. A particular highlight of this product range is the VCM series, which features medium-sized balls combined with Vacrodur high-performance steel. These bearings enable spindle manufacturers to design extremely robust and high-performance products.
Precision gear units and drives
Unique to the market and a technological highlight: Schaeffler's RT1 precision strain wave gears – also optionally available as the RT1-T featuring seamlessly integrated torque sensors – as well as PSC precision planetary gear units with automatic backlash compensation. With these precision gear units, a variety of automation solutions can be implemented in an extremely broad range of applications such as cobots, machine tools, welding positioners, rotary indexing tables, tube bending machines and many more. Both types of gear units will be on display at EMO 2023 in milling heads for light machining tasks.
By adding a motor, feedback system and optionally integrated controller to its RT-series precision strain wave gears, Schaeffler is now also able to offer individually configurable precision drives. This allows manufacturers to concentrate on their core competencies when developing their machines, without having to forgo customised precision drives.
More information on EMO and Schaeffler here.
Publisher: Schaeffler (UK) Ltd
Country: United Kingdom
Share Page