Schaeffler Special Machinery presents innovative multi-material 3D printing systems at automatica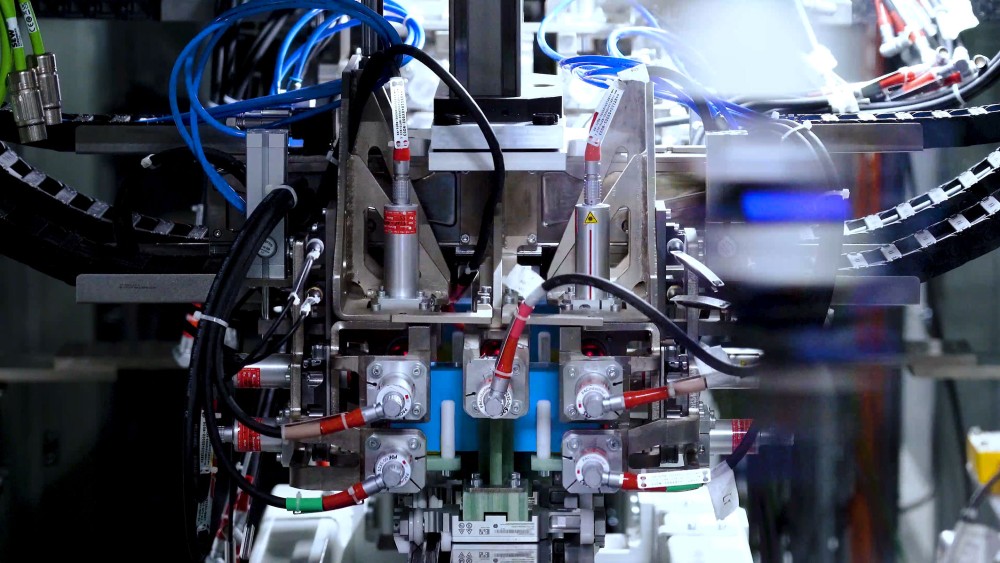 2023-06-27 | Birmingham
Launch in Munich, Germany: Complex multi-material 3D printing systems for unique material combination will be available from 2024
Trade fair booth to showcase extensive range of production systems for battery systems, medical technology, consumer goods, and e-mobility products
The Schaeffler Group's Special Machinery unit creates modular and cost-efficient solutions from a single source, from the idea through to volume production
From tomorrow, Schaeffler Special Machinery, the Schaeffler Group's special machine construction unit, will be showcasing its portfolio of turnkey production systems at automatica 2023, the leading international trade fair for intelligent automation and robotics, in Hall A5 at Booth 311. A new system for multi-material 3D printing will be a key feature of the booth: The unique concept for the high-precision production of 3D printed parts comprising a combination of metals and ceramics will be available from 2024. "Our newly developed system concept for multi-material 3D printing represents a milestone in the integration of additive manufacturing processes into our production lines," says Bernd Wollenick, Senior Vice President Schaeffler Special Machinery. "This solution will allow customers to use innovative material combinations, integrate new functions into components and tools, and provide a higher degree of flexibility in the design of products and tools."
As an example of production concepts in the medical sector, Schaeffler Special Machinery is presenting a solution at automatica that enables the flexible assembly of X-ray tubes, designed for the production of six different variants. In the field of e-mobility, the fully affiliated Schaeffler subsidiary will be showcasing a range of solutions including a system for manufacturing combined electric axle systems comprising electric motor, transmission, and a power electronics unit.
Extensive expertise in the growth sector of battery production
Solutions for battery production, which are also in great demand, will also be on show at the trade fair. "We have already been successful in implementing projects for external customers within e-mobility for the internationally growing battery market," says Bernd Wollenick. The range includes system concepts used in module assembly for all customary battery cell formats, which can be scaled to various output rates. Schaeffler Special Machinery can provide an agile and rapid response here, delivering turnkey solutions with simultaneous engineering to customer standards with short lead times. Ten customer-specific systems have been developed for automobile manufacturers and automotive suppliers to date, for use in isolating prismatic cells. Highlights include the combination of highly dynamic robots and transfer systems with direct drives, the integration of laser structuring and plasma activation as well as the high-voltage testing of the entire battery cell surface following paint application.
Wide product portfolio at automatica booth
"Our production concept portfolio for over 10,000 different products is aimed at customers across a wide variety of industries. Last year, we expanded this list of customers to include well-known manufacturers of battery systems, medical technology, consumer goods, and e-mobility solutions," emphasizes Bernd Wollenick. "As an industrialization partner with extensive production expertise, Schaeffler Special Machinery offers customers around the globe optimum solutions that are modular, sustainable, and tailored to requirements," says Bernd Wollenick. "We supply everything from a single source: From the idea and the first system concept through to stable volume production. As a fully affiliated subsidiary of the Schaeffler Group, we stand for innovation and creative engineering, and bring comprehensive production know-how and extensive digitalization expertise to the table," explains Bernd Wollenick. The core competences of Schaeffler Special Machinery, with its head office in Erlangen, Germany, revolve around assembly systems, test systems, machine tools, and handling technology.
To learn more about the turnkey production systems and intelligent automation solutions provided by Schaeffler Special Machinery, visit Booth 311 in Hall A5 at automatica in Munich from June 27 to June 30. Further information on Special Machinery's participation in the trade fair can be found here. Schaeffler's Industrial division is also participating as an exhibitor at automatica and will present its complete robotics portfolio in Hall B5 at Booth 111.
Additional information about Schaeffler Special Machinery can be found on the new website: www.schaeffler-special-machinery.com
Publisher: Scaheffler (UK) Ltd
Country: United Kingdom
Share Page