Schaeffler at the maintenance in Dortmund, Booth B10-4
The OPTIME Ecosystem: InnThe OPTIME Ecosystem: Innovative condition monitoring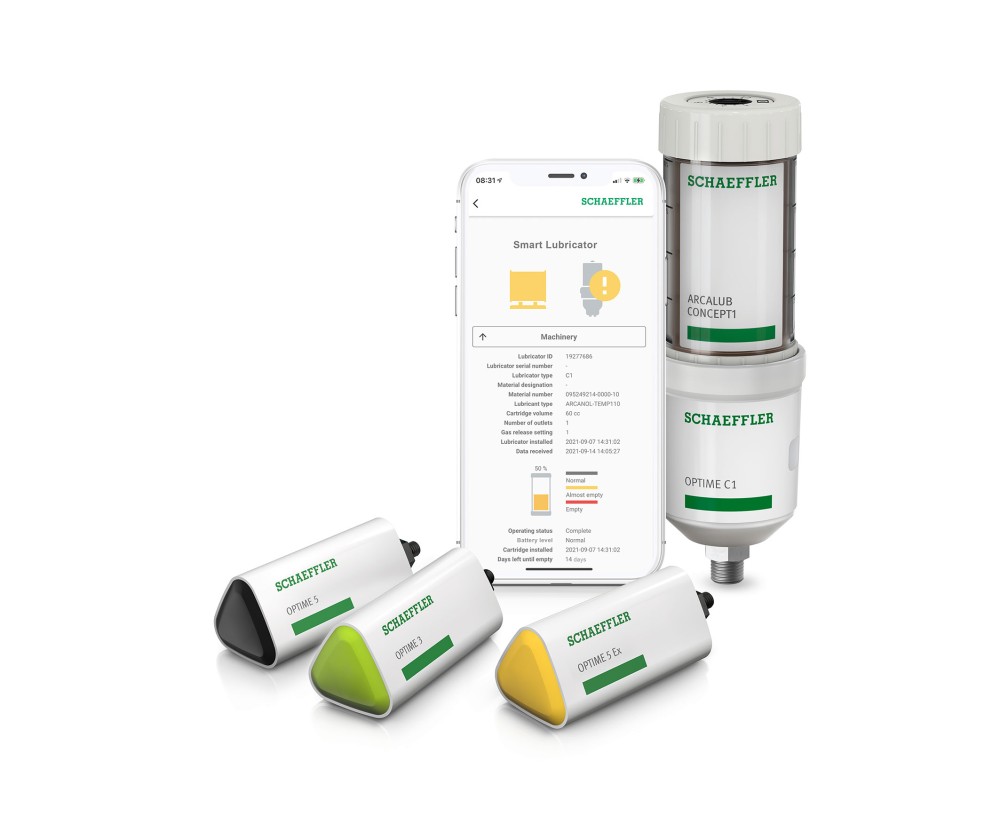 2023-05-02 | Birmingham
Schaeffler combines smart condition monitoring and lubricant management to form one predictive maintenance solution
Intuitive operation via mobile app ensures smooth operation of machines and facilities
Simple installation and a quick return on investment for entire plants and production facilities
Birmingham | May 02, 2023 | The global automotive and industrial supplier Schaeffler combines its OPTIME Condition Monitoring system with the sensor variants OPTIME 3, OPTIME 5, and OPTIME 5 Ex for wireless condition monitoring and its intelligent, interconnected lubricator OPTIME C1 for automated lubrication to form one solution: the OPTIME Ecosystem. This creates a cost-effective predictive maintenance solution, which effectively and sustainably minimises downtime and high maintenance costs in production facilities.
The OPTIME Ecosystem combines Schaeffler's long-standing expertise in the fields of bearing technology, vibration analysis and lubrication with a product design that is consistently geared towards the day-to-day tasks of maintenance teams. The system supports plant operators by offering particularly convenient initial operation. Thanks to the plug-and-play function, hundreds of OPTIME elements can be installed and integrated within a very short time period. A subsequent expansion can be carried out quickly and reliably at any time. Low investment costs, savings due to reduced machine downtimes, and increased efficiency in scheduling maintenance procedures guarantee a rapid return on investment.
A smart operating concept and the intuitive mobile app with a prize-winning user interface make it easy for users to gain an overview. This ensures a high level of acceptance among both beginners and experienced users. The OPTIME Ecosystem not only supports day-to-day maintenance operations with easy-to-understand warning messages and automatic analyses, but also helps with the data-based creation of maintenance plans.
The OPTIME Ecosystem is simple, cost-effective and scalable. In addition, the predictive maintenance solution improves the sustainability of facilities by reducing material waste and energy consumption through reduced unplanned downtimes. Schaeffler will continue to develop and add new elements to the OPTIME Ecosystem based on the experience gained in successful customer projects in various sectors and applications. In this way, the OPTIME Ecosystem will continue to optimally support the smooth operation of machines and facilities in the future by providing all relevant information at a glance.
Schaeffler will be showcasing the OPTIME Ecosystem at the maintenance, the leading trade show for industrial maintenance, from May 24 to 25, 2023 in Dortmund, Germany. Visitors can experience the OPTIME Ecosystem first hand at the Schaeffler booth B10-4 and get to know each element of the smart maintenance solution in more detail.
Publisher: Schaeffler (UK) Ltd
Country: United Kingdom
Share Page