Schaeffler announces latest innovations for Rail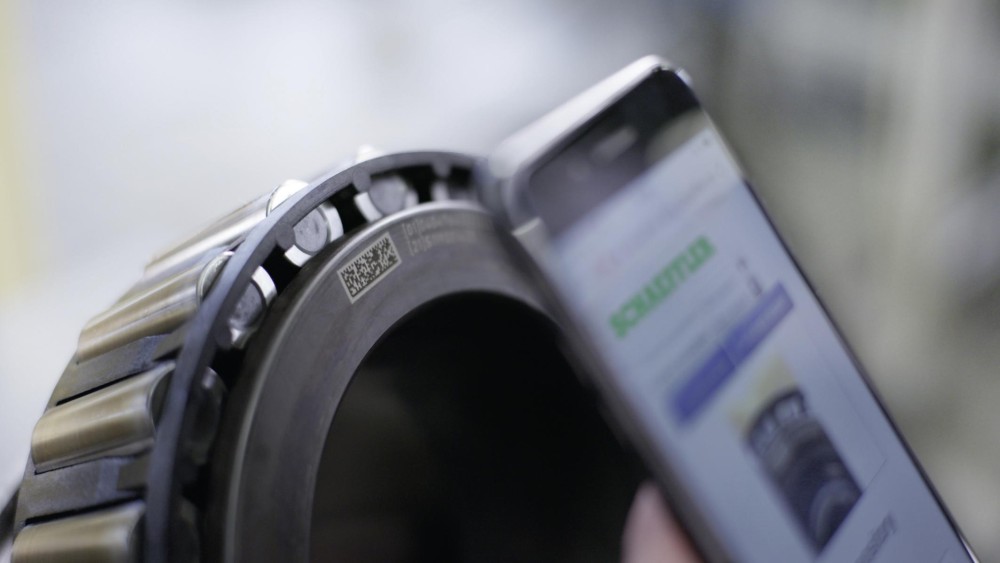 2022-10-07 | Birmingham
Linking databases using Data Matrix Code enables condition-based maintenance concepts
Collaboration with ZF leads to onboard condition monitoring systems
Railway Condition Monitoring System (RCMS) for digitalised monitoring and maintenance of complete motor and/or trailer bogies in passenger trains
Birmingham |7th October 2022| Schaeffler has announced its Digitalisation in rail transport concept, which offers huge benefits to customers for maintenance planning through condition-based monitoring, using data from sensors in fixed measuring stations or onboard systems installed in rail vehicles.
Data Matrix Code
By linking databases using Data Matrix Code (DMC), the DMC provides components with a unique digital laser marking. Manufacturing, assembly, and maintenance data are stored in the linked database. This generates a digital twin, which at the same time allows the installed bearings to be clearly assigned to the respective rail vehicles.
The digital twin realises its full potential when, in addition to the data from the component manufacturer, data from the OEM and rail vehicle operator are captured as well. The digital twin of a bearing contains information about the axlebox, bogie and rail car that the bearing was installed in at the OEM. Following delivery, real-time data from train operation can then be added continually. These include bearing mileage or sensor-based temperature or vibration measurements.
Evaluation of data from third party onboard condition monitoring systems
Using existing onboard condition monitoring systems for diagnosing axlebox bearings is an approach that Schaeffler is currently pursuing, through a collaboration with ZF. In rail vehicles equipped with the ZF connect@rail system, the vibration data collected are transmitted wirelessly to the cloud where they are evaluated automatically by analysis software specifically designed for the maintenance of bearings and then used for the proactive planning of bearing maintenance.
The combined expertise of the two companies allows a Rail 4.0 solution with significant added value to be created, the mechanical drive, which is maintained as a separate unit, can be digitally monitored right down to its sub-systems and components using just one condition monitoring system.
Railway Condition Monitoring System (RCMS)
In addition to the above, Schaeffler has developed its own complete, wired system for the predictive condition monitoring of complete motor and/or trailer bogies in passenger trains. The analysis of vibration signals provides very early indications of unusual mechanical loads. Operators and maintenance personnel can monitor the condition of individual axlebox bearings or complete axleboxes and bogies from anywhere in the world via a secure internet connection and schedule maintenance before even the lightest functional impairment has occurred.
Sustainability is a driver of innovation
All aspects of the development of products and services at Schaeffler pursue the goal of using resources as sparingly as possible, optimising the service life of components and maximising the mileage of rail vehicles.
Schaeffler provides a convenient reconditioning service for axlebox bearings, whereby the lubricant is replaced and the condition of all relevant bearing components is examined and replaced where necessary. Thanks to this process, rail bearings can achieve much greater longevity – and reconditioning a bearing instead of manufacturing a new one can save up to 93 per cent energy, 96 per cent CO2, and 97 per cent water.
Reduced downtimes thanks to 100 per cent return service
Schaeffler combines the ecological and economic potentials of reconditioning in its 100 per cent return service, which is tailored flexibly to the respective customer requirements. For each bearing that Schaeffler takes into its professional reconditioning process as part of the maintenance service, regardless of its condition, the customer gets back a fully functioning, reconditioned or new bearing.
Customers can choose between two service models. In the case of Model 1, the bearings sent in to Schaeffler are returned following reconditioning. Any defective bearings are replaced with new ones.
Model 2 also significantly reduces the throughput time for vehicle maintenance. The bearings to be inspected are registered for reconditioning in advance. The customer immediately receives the same number of reconditioned or new bearings from a rolling bearing pool.
In both service models, the manufacturing, assembly, operating, and maintenance data is collected via the DMC and stored in the digital twin facilitate. A maintenance process that is fast, predictable and especially sparing of resources.
The interaction of digitalisation, product design, service organization, and corporate development underpins the sustainability of all Schaeffler's business activities as well as those of its partners and customers.
Publisher: Schaeffler (UK) Ltd
Country: United Kingdom
Share Page