Schaeffler introduces CONCEPT1™ single-point automatic lubricator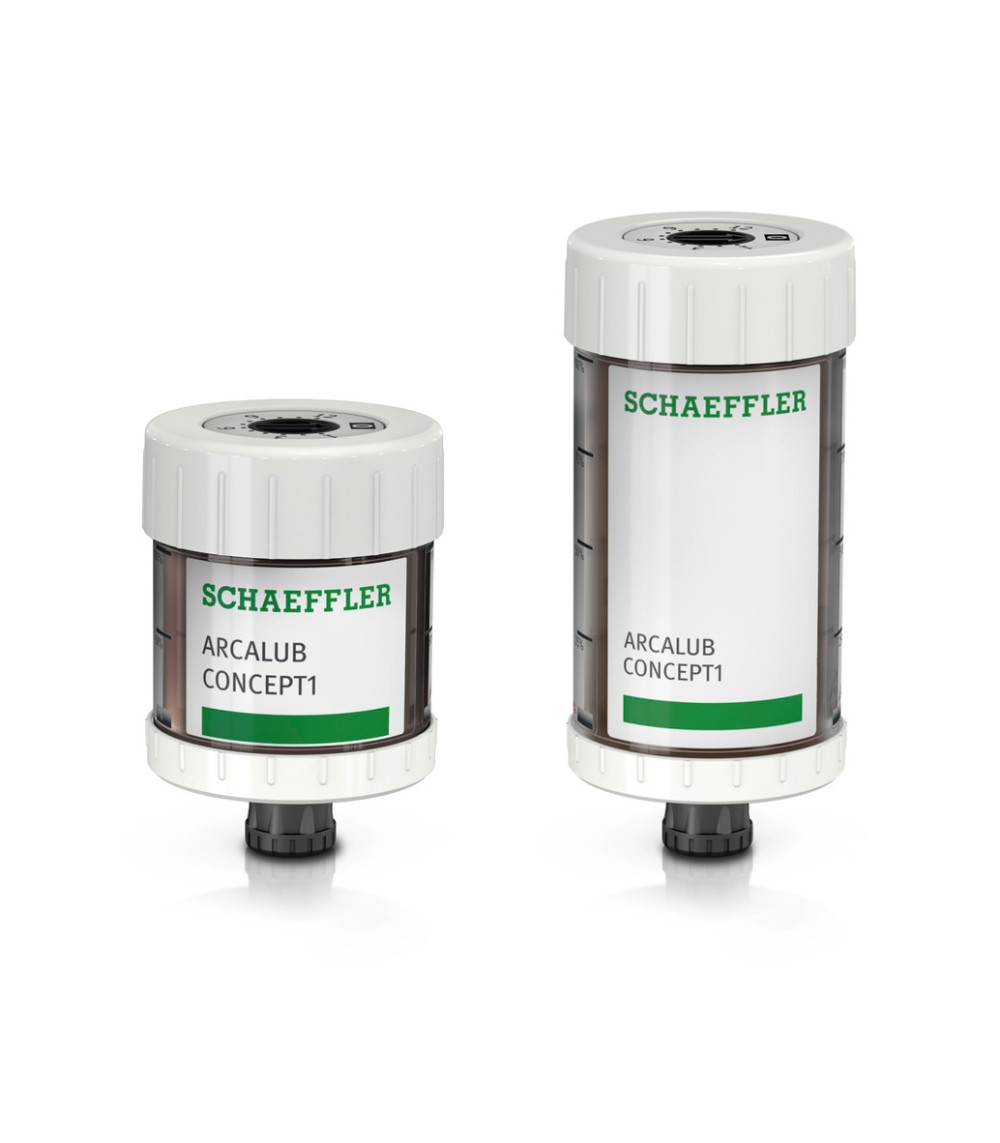 2020-11-18 | Birmingham
CONCEPT1 single-point automatic lubricator now available in the UK
Engineered to ensure optimal lubrication and improve reliability of electric motors and other industrial machines
Environmentally friendly refillable cartridge for use with a variety of lubricant options, including Schaeffler's range of Arcanol™ greases
Birmingham, UK | 17. November 2020 | Global industrial and automotive supplier Schaeffler has launched its new CONCEPT1 single-point automatic lubricator to the UK market.
Engineered to ensure optimal lubrication in a broad range of industrial machines and devices – including electric motors, bearing housings, fans, blowers and pumps – CONCEPT1 eliminates the need for time-consuming manual lubrication procedures, while preventing lubrication mistakes such as over- or under-greasing, which can cause unplanned equipment downtime.
"Approximately 60 per cent of electric motor failures can be traced to bearing-related problems that are typically due to lubrication issues", says David French, Product Manager for Industry 4.0 solutions at Schaeffler. "Accordingly, we designed CONCEPT1 to provide our customers with a versatile and easy-to-use solution that delivers the right grease in the right quantity at just the right intervals."
CONCEPT1 uses an electromechanical reaction to precisely and continuously supply the correct amount of lubricant to rolling bearings inside electric motors and other industrial machinery. Easy to install and operate, CONCEPT1 can reduce plant maintenance costs by as much as 25% when compared to manual lubrication procedures.
CONCEPT1 is available pre-filled with Schaeffler's industry-leading range of Arcanol greases or alternatively, customers can purchase empty lubricant cartridges for CONCEPT1 and use their own grease. To reduce waste and help protect the environment, CONCEPT1 can be refilled up to three times using Schaeffler's specially designed refill kits.
Sally Sillis, Schaeffler Technology Centre Manager at Schaeffler UK commented: "Approximately 70% of all bearing damage is caused by insufficient or incorrect lubrication which can result in expensive down-time and repair costs. This kind of damage can be prevented by using automatic lubricators such as the CONCEPT1."
"CONCEPT1 is particularly useful when machines or motors are located in difficult-to-access areas or are deemed as critical to the production process. The system is also suitable for both OEM applications and retrofitting to existing machines or equipment."
For more information on CONCEPT1, please contact Schaeffler UK's Communications & Branding Department on info.uk@schaeffler.com
Publisher: Schaeffler (UK) Ltd
Country: United Kingdom
Share Page