For maximum load-carrying capacity and rigidity: XZU conical thrust cage needle roller bearing and RTWH gearbox from Schaeffler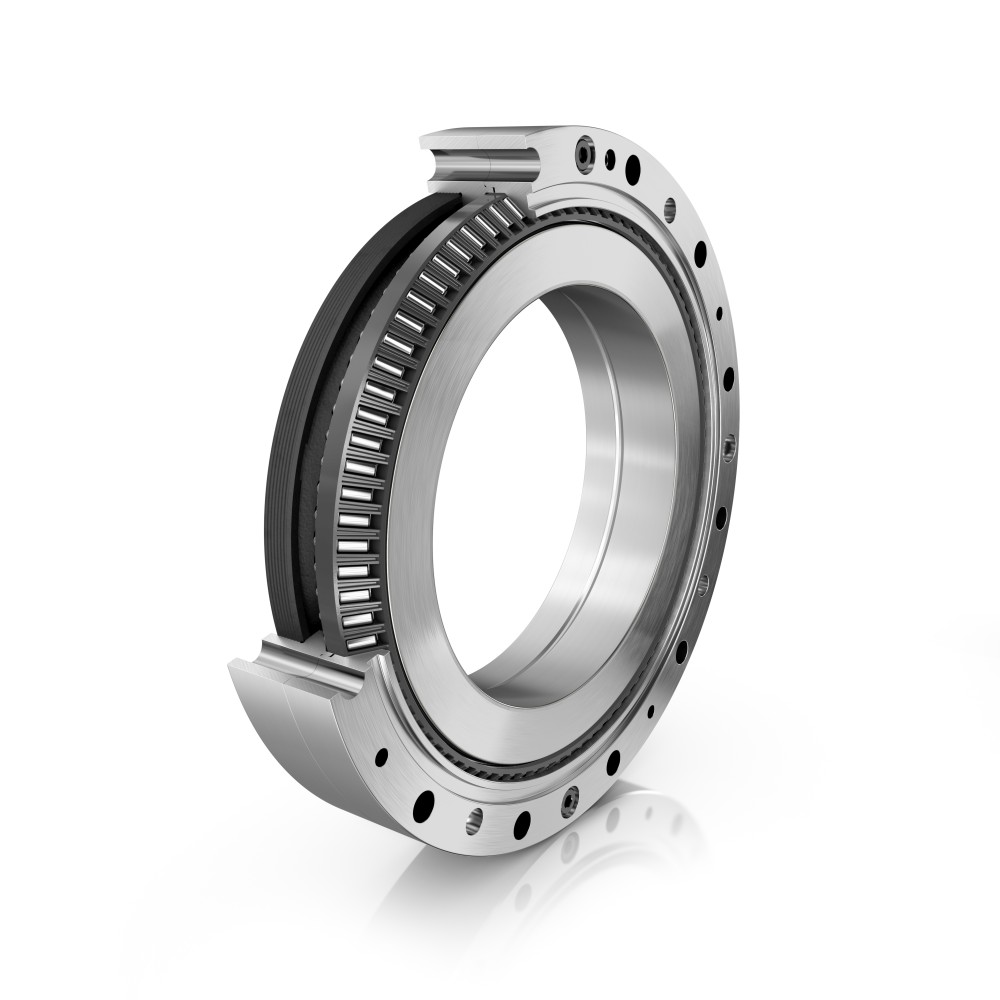 2020-06-01 | Birmingham
Schaeffler develops new market with major growth potential
New XZU conical thrust cage needle roller bearing for robot and cobot joints: 20 per cent less friction and 30 per cent greater rigidity
New RTWH precision gearbox for compact design envelope
Birmingham, UK | 1. June 2020 | Today's advanced automation and production facilities need lightweight robots (LWRs) and collaborative robots (cobots) that are highly dynamic and accurate. Drawing on its many years of experience in industrial automation, Schaeffler has developed two new and highly innovative components for LWRs and cobots, with which it is opening up new opportunities in a fast-growing market segment.
The new XZU conical thrust cage needle roller bearing is used both as an articulated arm bearing in LWRs and cobots and as the main bearing support for the company's new RTWH precision gearbox. This combination of RTWH gearbox and XZU bearing ensures the most compact design envelope and the greatest rigidity possible in applications.
XZU conical thrust cage needle roller bearing for articulated-arm bearing supports
Schaeffler's double-row conical thrust cage needle roller bearing is the culmination of 70 years of experience in the design and manufacture of needle roller bearings. The main benefit of the bearing for customers is that it has more load-bearing rolling elements than the crossed roller bearings currently used for articulated-arm bearing supports, while maintaining the same design envelope. Customers therefore have the option of using smaller-sized bearings, thereby saving on space and weight – major benefits when it comes to downsizing. This opens up new opportunities and possibilities in the development of LWRs and cobots. The bearing technology spawns a constantly growing array of new applications for users.
Apart from more load-bearing rolling elements, the XZU unit's X-arrangement of needle rollers in two raceways offers support distances that, depending on installed size, increases rigidity by at least 30 per cent compared to crossed roller bearings. Furthermore, by housing the rolling elements in cage guides and having them configured in two raceways instead of just one, the XZU delivers a 20 per cent reduction in friction.
For customers, this all translates into more precise movement and less overshoot on reaching the end position. Overall, applications using these bearings require fewer control processes and can operate at higher speeds, thereby making the production cycle in question much more efficient.
RTWH precision gearbox – silk hat-type speed reducer
Schaeffler offers ready-to-install, silk hat-type speed-reduction gears – or "speed reducers" as they are also known – for use in robot articulated joints. By harnessing the functional principles of strain wave gearing, the RTWH combines high gear ratios – and correspondingly high torques – with relatively lightweight construction. The RTWH precision gearbox developed by Schaeffler is characterised by clearance-free operation, high positioning accuracy, and compactness. It is also very durable and therefore has a long operating life.
A long operating life is a key factor in robots, which need to operate with maximum reliability and minimum downtime. Depending on their size, Schaeffler's RTWH gearboxes can deliver reduction ratios of 50:1 to 150:1. The torques resulting from these reductions are transmitted reliably and accurately due to the gearbox's robust construction and the integration of the highly rigid XZU conical thrust cage needle roller bearing. As a result, robots fitted with RTWH gearboxes are highly efficient and able to move through to their end positions dynamically, accurately, and without excessive overshoot. This means they are able to complete sorting, handling and assembly tasks quickly and efficiently.
Another stand-out feature of the new precision gearbox from Schaeffler is its compact and maintenance-free design. It is available in all standard sizes. The drive flange is a hollow shaft and can be factory-tailored to the customer's requirements.
About Schaeffler
The Schaeffler Group is a leading global supplier to the automotive and industrial sectors. Its portfolio includes high-precision components and systems for engine, transmission and chassis applications as well as rolling and plain bearing solutions for a large number of industrial applications. The Schaeffler Group is already shaping "Mobility for tomorrow" to a significant degree with innovative and sustainable technologies for electric mobility, digitalization, and Industry 4.0. The technology company generated sales of approximately EUR 14.4 billion in 2019. With around 87,700 employees, Schaeffler is one of the world's largest family companies and, with approximately 170 locations in over 50 countries, has a worldwide network of manufacturing locations, research and development facilities, and sales companies. With just on 2,400 patent applications in 2019, Schaeffler is Germany's second most innovative company according to the DPMA (German Patent and Trademark Office).
Follow us on Twitter @SchaefflerUK to get all of our latest press releases and news.
Publisher: Schaeffler (UK) Ltd
Country: United Kingdom
Share Page