Schaeffler and Audi moving forward together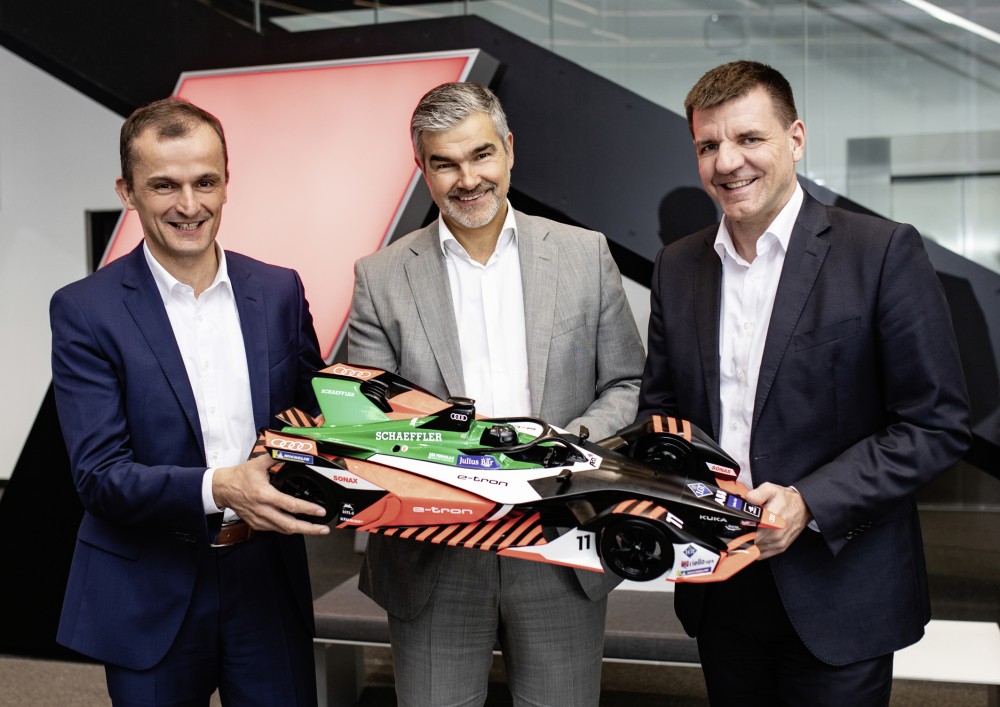 2019-11-18 | Sutton Coldfield
Audi to remain a long-term technology partner in Formula E
The partners' shared success story in the electric racing series already spans five years
Matthias Zink: "A combination that was perfect from the very start."
Expertise successfully transferred from the racetrack to volume production developments
SUTTON COLDFIELD, UK, November 18, 2019.Schaeffler and Audi are set to remain a formidable Formula E team in the future. This agreement was concluded between the globally active automotive and industrial supplier from Herzogenaurach and the brand from Ingolstadt. Joint development work on the Audi e-tron FE07 for the series' seventh season, starting out in autumn 2020, has already begun. This is one of the most successful partnerships in Formula E: since the series made its debut in the fall of 2014, Schaeffler has been the technology partner of Audi Sport ABT Schaeffler. The team has set benchmarks both on the track and on the sidelines, with 40 places on the podium and more than 1,000 points before the start of the sixth season. Schaeffler puts the expertise gained from this fully electric racing series into its development work.
Successful partnership in Formula E
"Schaeffler, Audi, and Formula E are a combination that was perfect from the very start," explains Matthias Zink, CEO Automotive OEM at Schaeffler. "As a company, our intention is to use our drive train and chassis technologies to innovatively shape sustainable mobility. Formula E is an ideal platform on which to present these ideas for future electric mobility and measure our performance in a competition of the highest sporting calibre. And at the same time, our involvement has been delighting both fans and employees alike for years."
Initially a partner to the private ABT Sportsline team for the first three years, Schaeffler has been developing drive trains for Formula E together with Audi since it joined the series as a factory team in the fall of 2017. The combination of engine, transmission, inverter, and software represents the core of the vehicle, which in all other aspects is identical for all teams. In the future, Schaeffler will continue its involvement as a technology and development partner, primarily in fields such as transmission, engine, and drive concept development and by providing support in test rig-based work and prototype construction, as well as bearing development and production. "I am delighted that the formidable team of Audi and Schaeffler will continue during the next few years," enthuses Dieter Gass, Audi's head of motorsport. "We have already achieved a great deal together, but the ever-increasing performance density in Formula E means we still have huge challenges ahead of us. The fact that we are able to join forces and tackle the development of the Audi e-tron FE07 for season seven as an experienced team is therefore of major significance."
Ideal test laboratory for volume production developments
For Schaeffler, this electric racing series is the ideal test laboratory for developing mobility solutions for tomorrow. After all, only the technology winners in that arena can later hope to be among the leaders in the volume production race. "Formula E gives us a wealth of expertise, which we then transfer from the racetrack to our development departments," explains Dr. Jochen Schröder, head of Schaeffler's E-Mobility business division. "The relevance of this expertise in the fields of comprehensive drive systems, electric motors, power electronics, and transmissions is already demonstrated by the Schaeffler electric axle drives that we have been producing for the Audi e-tron since 2018, and this expertise is also being integrated into electric drive systems and components for the future that are currently in volume production development at Schaeffler."
For more information, please contact Schaeffler UK's Communications & Branding Department on info.uk@schaeffler.com
About Schaeffler
The Schaeffler Group is a leading global supplier to the automotive and industrial sectors. Its portfolio includes high-precision components and systems for engine, transmission, and chassis applications as well as rolling and plain bearing solutions for a large number of industrial applications. Schaeffler is already shaping "Mobility for tomorrow" to a significant degree with innovative and sustainable technologies for electric mobility, digitalization, and Industry 4.0. The technology company generated sales of approximately EUR 14.2 billion in 2018. With around 89,000 employees, Schaeffler is one of the world's largest family companies and, with approximately 170 locations in over 50 countries, has a worldwide network of manufacturing locations, research and development facilities, and sales companies. With more than 2,400 patent applications in 2018, Schaeffler is Germany's second most innovative company according to the DPMA (German Patent and Trademark Office).
Follow us on Twitter @SchaefflerUK to get all of our latest press releases and news.
Publisher: Schaeffler (UK) Ltd
Country: United Kingdom
Share Page