Schaeffler develops and manufactures key components for fuel cells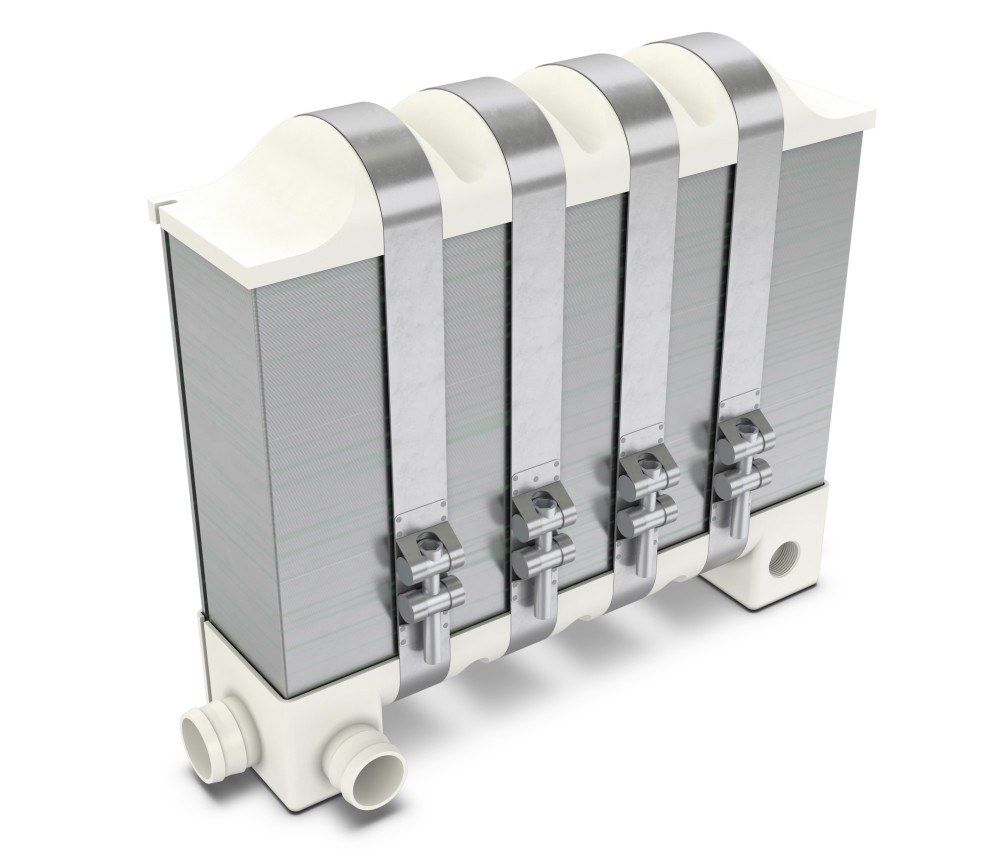 2019-10-16 | Sutton Coldfield
Stacked bipolar plates form the core of the fuel cell.
Materials technology, forming technology and surface technology in perfection.
Fuel cell makes important contribution to shaping sustainable mobility.
Schaeffler presents its vision of innovation-led future mobility at the Tokyo Motor Show (South Hall 3, 4, Booth S3203).
SUTTON COLDFIELD, UK, October 16, 2019. The irregular availability of renewable energies requires new energy carriers and electricity storage technologies. This is the only way to ensure sustainable mobility for tomorrow. Alternatives such as hydrogen, which is available in almost unlimited quantities on Earth, are becoming increasingly important here. Schaeffler has recognised the enormous potential of hydrogen technology as an energy carrier of the future and has developed key components for fuel cells and fuel cell stacks called 'metallic bipolar plates'.
The company is using its traditional core expertise in materials technology, forming technology, and surface technology in this development work. Its main strength here is that it is strongly diversified in the industrial and automotive sectors and so is involved at every point in the energy chain, from the generation of energy through to its use in vehicles. "We want to shape CO2-neutral, sustainable and individual mobility with regard to the entire energy chain," says Uwe Wagner, Chief Technology Officer at Schaeffler. "The problem of global CO2 emissions cannot be solved with purely battery-driven vehicles alone. Heavy goods vehicles in particular will require alternative energy storage systems and hydrogen in combination with the fuel cell offers outstanding opportunities here. Hybrid storage systems, i.e. the combination of a battery and hydrogen, are also an attractive solution for achieving a longer range in passenger cars."
The fuel cell is key to sustainable mobility
Schaeffler has been focusing on the value added chain of key components for the fuel cell for some time and is using its traditional core expertise here. Bipolar plates are produced by precise forming and coating in the thin-layer range, which once stacked form the core of the fuel cell system. The fuel cell stacks are energy converters, which let H2 react with O2 to form water. The electricity generated during this process can be used to power the vehicle's electric motor. Schaeffler's portfolio for optimised fuel cell systems is expanded by additional areas of expertise, such as electronic control systems, special foil-air bearings, smart thermal management modules or components for passive hydrogen recirculation.
Schaeffler at the Tokyo Motor Show
At the 46th Tokyo Motor Show, under the motto "Making mobility sustainable and autonomous" Schaeffler will publicly present its holistic approaches for future, sustainable energy chains and CO2-neutral mobility solutions, including its expertise in fuel cells. The exhibits on the trade show stand will also include the new Schaeffler electric motors in various output classes, which are now going into high-volume production and solutions for intelligent rear wheel steering. The range is rounded off by the Schaeffler Intelligent Corner Module with its 90-degree steering angle, drive-by-wire as a key enabling technology for self-driving cars, and the Schaeffler Mover as a new mobility concept for urban spaces. Visit the stand from October 24 to November 4, 2019, at the Tokyo Motor Show in Hall 3, 4 at Booth S3203.
About Schaeffler
The Schaeffler Group is a leading global supplier to the automotive and industrial sectors. Its portfolio includes high-precision components and systems for engine, transmission, and chassis applications as well as rolling and plain bearing solutions for a large number of industrial applications. The Schaeffler Group is already shaping "Mobility for tomorrow" to a significant degree with innovative and sustainable technologies for electric mobility, digitalization, and Industry 4.0. The technology company generated sales of approximately EUR 14.2 billion in 2018. With around 90,500 employees, Schaeffler is one of the world's largest family companies and, with approximately 170 locations in over 50 countries, has a worldwide network of manufacturing locations, research and development facilities, and sales companies. With more than 2,400 patent applications in 2018, Schaeffler is Germany's second most innovative company according to the DPMA (German Patent and Trademark Office).
Follow us on Twitter @SchaefflerUK to get all of our latest press releases and news.
Publisher: Schaeffler (UK) Ltd
Country: United Kingdom
Share Page