Bearing solutions and dynamic motion systems for robot-based automation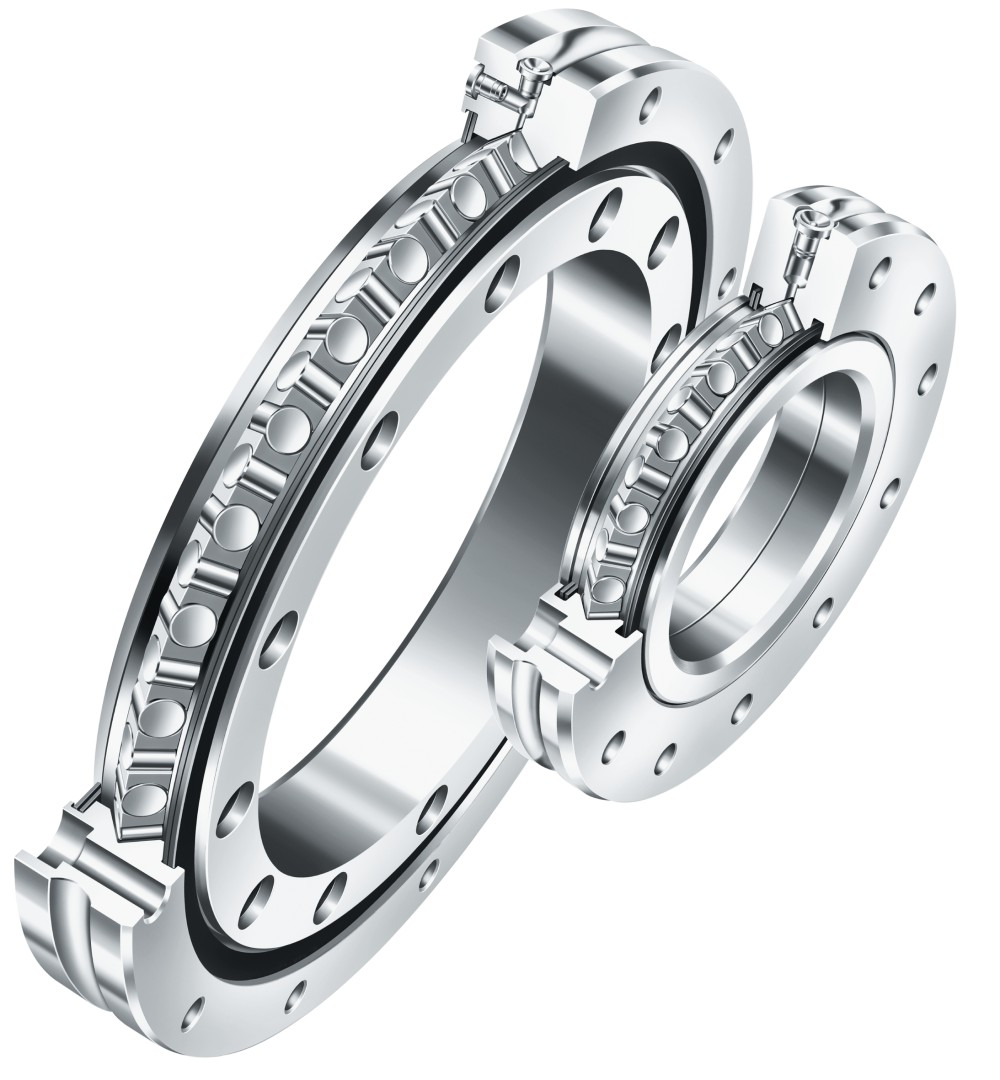 2019-09-18 | Sutton Coldfield
Schaeffler offers the right bearing design for every robot joint.
Optimised crossed roller bearings and double-row angular contact roller bearings for higher rigidity.
Cost effective, dynamic and precise: Cartesian axis systems supplement portfolio for robotics.
SUTTON COLDFIELD, UK, September 18, 2019. Industrial robots have established themselves in the competition for efficient automation solutions for a wide variety of handling and machining tasks. This development has been accelerated by increasing quantities and the associated fall in purchasing costs and by technical progress with regards to rigidities and possible loads. Articulated arm bearing supports play a decisive role in the load carrying capacity, dynamics and precision of robots. Schaeffler offers solutions for each of the six axes with their specific requirements.
Swivel joint bearing supports for articulated robots
The lower swivel bearing support for axes 1 and 2 of a robot supports the entire weight and the largest tilting moments. What makes things even more difficult is the fact that tilting in the bearing support is multiplied as far as the tool centre point (TCP). This is where Schaeffler offers INA ZKLDF double-row axial angular contact ball bearings with very high tilting rigidity, which are well known in the machine tool sector. Their solid bearing rings are screw mounted to the adjacent construction.
Axes 3 and 4 still support a significant proportion of the robot arm's weight, however, the installation space in the joint is already significantly restricted. This calls for a high load carrying capacity and rigidity with a small bearing cross-section. Schaeffler's engineers have optimised INA XSU-series crossed roller bearings specifically for the increasing requirements in this application. A particularly high filling level with cylindrical rollers ensures increased rigidity.
Double row bearing supports, particularly those in an 'O' arrangement, offer major potential for bearing supports with very high tilting rigidity due to their very large support distance and small axial design envelope. FAG SGL-series angular contact roller bearings also have a very rigid roller contact. Schaeffler recommends a combination of both types, particularly for axes 5 and 6 with small articulated arm diameters. SGL bearings can be very flexibly integrated into the available installation space between the robot's gearbox and the housing due to their small cross-section and diameter graduations.
The 7th axis – the extended arm
A so-called 7th axis is frequently used to extend the working area of industrial robots or enable them to move greater distances. The robot is moved between individual machine tools or stations and the magazines and palette systems on a table of the linear axis. The INA KUSE six-row monorail guidance system in X-life quality is particularly suitable as a guidance system here. It offers a very high nominal rating life, reduced lubricant requirement, and extremely small stroke pulsation. In a compressive direction, this six-row monorail guidance system has a particularly high load carrying capacity and is therefore ideally suited for combination with direct drives. In order to maximise the availability of the entire production cell with X machine tools, Schaeffler offers DuraSense as an option for its monorail guidance systems. DuraSense's integrated sensor system enables automated lubrication or monitoring of the lubrication condition of carriages. The risk of unplanned downtime due to wear and lubrication failure is significantly reduced.
Cartesian systems: cost-effective, dynamic and precise
It is not always necessary to use an expensive robot for handling workpieces and tools. These tasks can still be frequently performed by cartesian axis systems, which are constructed from linear actuators that can be combined. Schaeffler offers an extensive range of INA linear actuators and driven linear units in this field. Linear actuators with special functions expand the range of applications. MTKUSE telescopic actuators, for example, allow a handover in areas behind protective barriers or in separate workspaces.
About Schaeffler
The Schaeffler Group is a global automotive and industrial supplier. By delivering high-precision components and systems in engine, transmission, and chassis applications, as well as rolling and plain bearing solutions for a large number of industrial applications, the Schaeffler Group is already shaping "Mobility for tomorrow" to a significant degree. The technology company generated sales of approximately 14.2 billion Euros in 2018. With around 92,500 employees, Schaeffler is one of the world's largest family companies and, with approximately 170 locations in over 50 countries, has a worldwide network of manufacturing locations, research and development facilities, and sales companies. With more than 2,400 patent registrations in 2018, Schaeffler is Germany's second most innovative company according to the DPMA (German Patent and Trademark Office).
Follow us on Twitter @SchaefflerUK to get all of our latest press releases and news.
Publisher: Schaeffler (UK) Ltd
Country: United Kingdom
Share Page