Getting connected for an autonomous future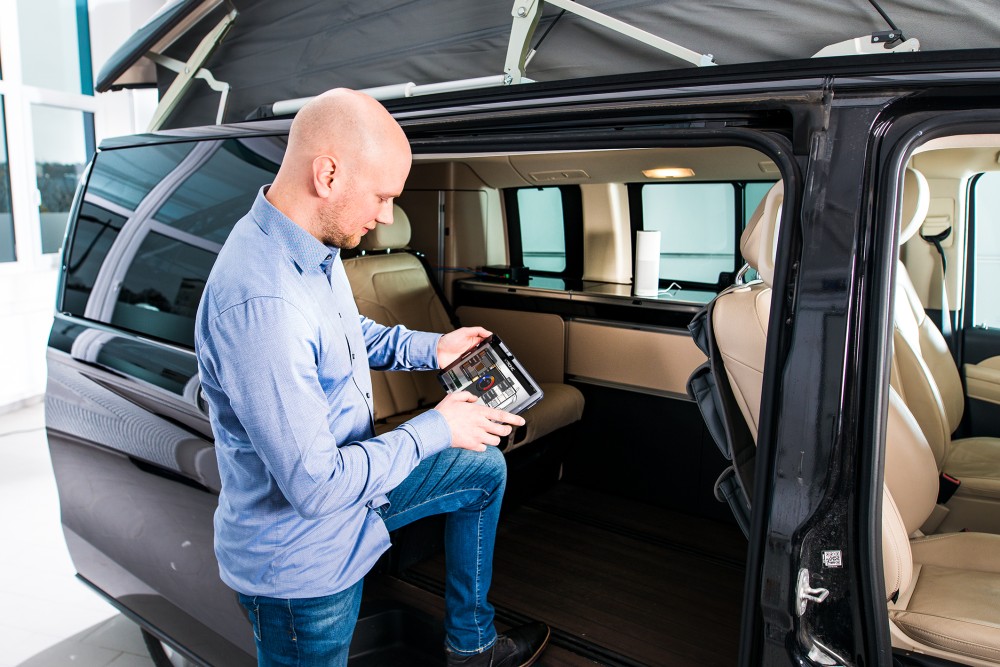 2019-09-13 | Sutton Coldfield
Schaeffler presents its innovative XTRONIC Control Unit as a basis for autonomous driving.
The Control Unit is not dependent on any specific platform, and it ensures a comprehensive range of safety, monitoring, operating, and comfort functions.
The solution is in volume production for several global OEMs.
SUTTON COLDFIELD, UK, September 13, 2019. Remote monitoring and control are particularly important for autonomous vehicles. However, to date such functions have only been available in isolated systems or have been dependent on specific platforms. The XTRONIC Control Unit, on the other hand, combines safety, monitoring, operating, and comfort functions in a single system. The innovative system also makes a convincing case due to its wide range of interlinked, integrated components – from entertainment systems through to condition monitoring for vehicle components. The reliable interlinking of innovative driver assistance systems together with radar, lidar, ultrasound, and even artificial intelligence, therefore provides the technological basis for autonomous driving.
Integration across platforms
The XTRONIC Control Unit allows digital control and monitoring to be combined in a single application for smartphones, tablet PCs, and smartwatches. The most important data is therefore always available in the cloud and can be accessed from anywhere via a mobile device. It doesn't matter what type of vehicle platform is used for the implementation of the connectivity tools based on the control unit. Applications include not only (partly) autonomous vehicles but also commercial vehicles and motorhomes. The control unit recently went into volume production for several global OEMs to use in these fields of application.
CampConnect – the digital control system for campervans
At the IAA, Schaeffler will be demonstrating the advantages of this system using a campervan as an example. "CampConnect" is based on the XTRONIC Control Unit and allows comfort and safety functions in campervans and caravans to be digitally controlled. For example, end customers can access the full range of control functions and carry out status checks via smartphone while they are on the move. This means the owner can check the fuel level and the temperature, for example. Condition monitoring and predictive maintenance of components ensure availability and provide the basis for intelligent maintenance planning for both vehicles and entire vehicle fleets. If a break-in attempt occurs, an alarm is also immediately sounded.
About XTRONIC
XTRONIC has been part of Schaeffler since May 2019 and, as a technology partner, develops custom software and electronics solutions for the international automotive industry. The company's service portfolio includes applications that range from automated driving and electric mobility, through to functional safety, as well as methods, tools, and testing systems – all of which makes XTRONIC a specialist when it comes to innovative interlinking for vehicles.
About Schaeffler
The Schaeffler Group is a global automotive and industrial supplier. By delivering high-precision components and systems in engine, transmission, and chassis applications, as well as rolling and plain bearing solutions for a large number of industrial applications, the Schaeffler Group is already shaping "Mobility for tomorrow" to a significant degree. The technology company generated sales of approximately 14.2 billion Euros in 2018. With around 92,500 employees, Schaeffler is one of the world's largest family companies and, with approximately 170 locations in over 50 countries, has a worldwide network of manufacturing locations, research and development facilities, and sales companies. With more than 2,400 patent registrations in 2018, Schaeffler is Germany's second most innovative company according to the DPMA (German Patent and Trademark Office).
Follow us on Twitter @SchaefflerUK to get all of our latest press releases and news.
Publisher: Schaeffler (UK) Ltd
Country: United Kingdom
Share Page