Schaeffler presents electric motors ready for volume production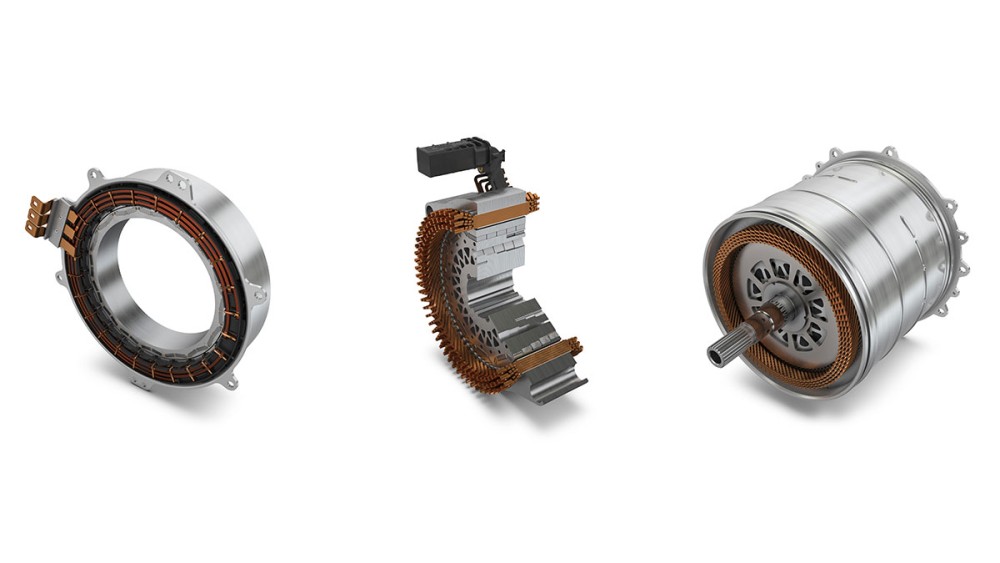 2019-09-12 | Sutton Coldfield
Start of production for efficient electric motors as components and parts for complete systems
Product portfolio includes solutions for both hybrid drives and electric axle drives.
Product expertise in perfection for performance classes ranging from 15 to more than 300 kilowatts.
Everything from one source: high net output ratio – from winding machines to highly integrated electric drive systems.
SUTTON COLDFIELD, UK, September 12, 2019. Schaeffler is entering the electric motor manufacturing sector with a modular, highly integrated technology platform. This family of electric motors is designed for efficiency and a good price/performance ratio, and potential applications range from hybrid modules and dedicated hybrid transmissions (DHTs) through to electric motors for electric axle drives. Voltage ranges from 48V to 800V and performance classes from 15kW to over 300kW are possible. Volume production for a range of customer projects worldwide is set to begin in 2021. Schaeffler's worldwide network of manufacturing plants and special machinery and tool manufacturing facilities will be used to set up and operate the production lines. Schaeffler will be publicly presenting the electric motors – which were developed in-house and are ready for volume production – as complete systems for the first time at the IAA.
Systems expertise in perfection
Since the last remaining technology gap, stator manufacture, was closed by the acquisition of Elmotec Statomat at the end of 2018, the company can now fully cover the industrialisation of electric motors. Comprehensive expertise in mechanical components, manufacturing processes and winding technologies, as well as an in-depth understanding of all vehicle systems, guarantee short development times and ensure smooth processes in the production of technologically sophisticated electric motors. "Understanding and mastering transmissions, electric motors, and power electronics is an art in itself," explains Dr. Jochen Schröder, Head of Schaeffler's E-Mobility business division. "Making a functioning overall system and powertrain out of all these things is another. We are experts in both."
Efficient in every application thanks to a modular technology system
Electric motors for P2 hybrid modules are subject to special requirements, as their design means that they run at the same speed as the internal combustion engine. Minimal axial length and ample free space inside the rotor for the integration of clutch and release system ensure the necessary high packing density for this application. Single-tooth winding allows extremely small axial installation spaces. Both 48V and high-voltage motors with ratings of 15 to 120kW are available. As the hybrid module is designed as a dry system, the stator is actively cooled using a cooling jacket. In systems with a wet clutch, the oil that is available can also be used to lower the temperature of the electric motor, which leads to significantly better heat dissipation and thus higher continuous output levels. However, the best type of power loss is the one that never occurs in the first place, which is why the motors are optimised for high efficiency across a wide range of data map areas.
Depending on the design envelope, the same can apply for electric motors in dedicated hybrid drives. These transmissions are usually designed in such a way that more axial installation space is provided for the electric motors, which rotate faster. Output levels of 80 to 140kW are common. Depending on the transmission and powertrain operating mode, these motors work together with the internal combustion engine as motors or generators, and their efficiency characteristics are optimised in accordance with the utilisation profile. As a result of the all-electric driving modes of plug-in hybrids, their acoustic behaviour becomes a prominent factor. In many cases, the use of distributed windings is the right solution. To this end, Schaeffler has defined a second standard winding solution, for which the production machinery is also developed in-house. The method in question is bar wave winding, which Elmotec Statomat is constantly refining at its location in Karben. To provide a specific application, a traction machine was developed that has an overall axial length of 137mm and delivers 125kW of power and 310Nm of torque.
The portfolio is completed by a range of electric motors for driving electric axles. These cover both high-voltage 2 (400V) and high-voltage 3 (800V) ranges, and outputs of 100kW to 300kW are possible. If the system design permits, these motors are configured for high maximum speeds of up to 20,000rpm, which allows the advantages of bar wave winding to be fully utilised. The high number of stator grooves means that the temperature is lowered effectively and leads to a rotating field with a low number of harmonics. This results in two advantages: a high power density and an excellent level of efficiency.
"By acquiring new expertise for the in-house development and production of electric motors, we are not only expanding our portfolio but also consistently pursuing our electric mobility strategy. Our comprehensive systems expertise and the solutions that we expertly derive from it, mean that our customers have a recognised and trusted system and component manufacturer on hand to deliver the ideal products based on their requirements and mobility needs," explains Matthias Zink, CEO Automotive OEM at Schaeffler.
Visit us at the IAA in Hall 9, Booth A07. The press conference can be viewed online at https://schaeffler.gomexlive.com/.
About Schaeffler
The Schaeffler Group is a global automotive and industrial supplier. By delivering high-precision components and systems in engine, transmission, and chassis applications, as well as rolling and plain bearing solutions for a large number of industrial applications, the Schaeffler Group is already shaping "Mobility for tomorrow" to a significant degree. The technology company generated sales of approximately 14.2 billion Euros in 2018. With around 92,500 employees, Schaeffler is one of the world's largest family companies and, with approximately 170 locations in over 50 countries, has a worldwide network of manufacturing locations, research and development facilities, and sales companies. With more than 2,400 patent registrations in 2018, Schaeffler is Germany's second most innovative company according to the DPMA (German Patent and Trademark Office).
Follow us on Twitter @SchaefflerUK to get all of our latest press releases and news.
Publisher: Schaeffler (UK) Ltd
Country: United Kingdom
Share Page