Schaeffler bearings for rail vehicle tilting technology ensure high reliability and a longer service life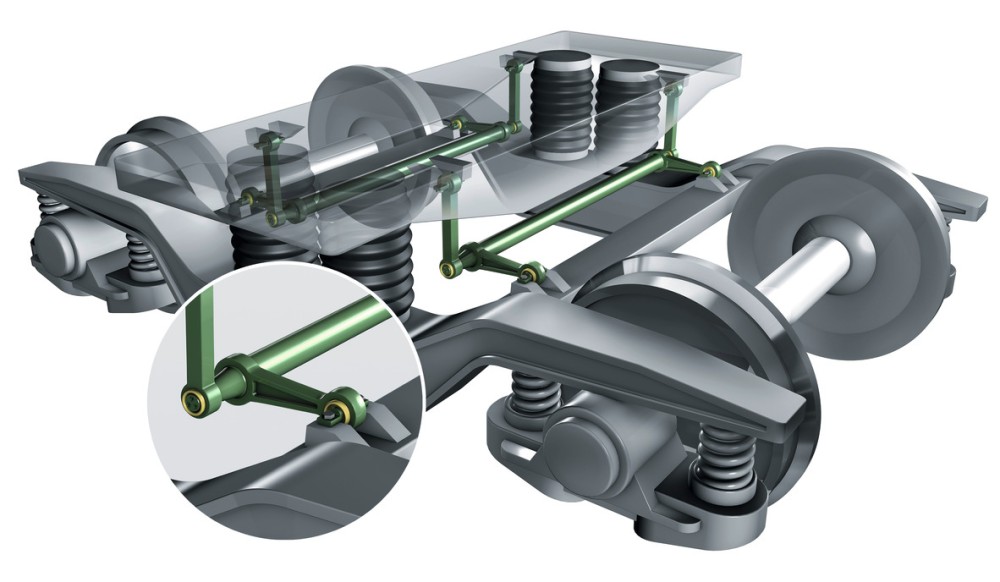 2019-08-27 | Sutton Coldfield
SUTTON COLDFIELD, UK, August 27, 2019. Rail vehicles with tilting technology reach considerably higher speeds on conventional rail routes than vehicles without this technology. This means that journey times are shortened, which makes inter-city transport more attractive. Schaeffler bearings are used in the main tilting mechanism of rail vehicles, as well as in stabilising systems such as anti-roll bars, and in the drive units for the tilting motion.
Yoke type track roller units
Yoke type track roller units are complete assemblies that consist of one shaft and two yoke type track rollers. Two yoke type track roller units per bogie support the bogie bolster in each case, which as the main supporting element, enables the tilting motion of the rail car body. The special yoke type track rollers are protected from corrosion by Schaeffler's Corrotect coating and have unique seals that protect against contamination ensuring a long operating life.
Cylindrical roller bearings
Supplied as full-complement locating bearings, cylindrical roller bearing units support not only radial forces but also axial forces in both directions. They can be fixed using the annular grooves in the outer ring and are protected against contamination and water spray by lip seals on both sides. As these bearing units can be relubricated and are protected from corrosion with Corrotect, they offer a long term reliable solution with a high load carrying capacity.
Needle roller/ thrust cylindrical roller bearings
Needle roller/thrust cylindrical roller bearings are used in the drive units for the tilting system and are characterised by a high level of reliability and a long operating life. They consist of an outer ring with radial and axial raceways, two shaft locating washers, an inner ring, a radial needle roller and cage assembly, and two thrust cylindrical roller and cage assemblies.
The locating bearings support not only high radial forces, but also the axial forces on both sides. They are axially preloaded with precision lock nuts, thereby ensuring clearance-free operation. Needle roller/thrust cylindrical roller bearings are relubricated via the outer ring and can be sealed using a seal carrier assembly. Designs with outer rings suitable for flange mounting are also available.
Radial spherical plain bearings
For spherical plain bearings used in rail vehicles, freedom from maintenance and a long operating life are becoming increasingly important. Increasingly, customers are choosing maintenance-free spherical plain bearings from Schaeffler. For example, in smaller dimensions for door systems, medium-size bearings for tilting technology, and larger sizes for couplings. Schaeffler spherical plain bearings are characterised by a high load carrying capacity, extraordinary reliability and long life. Maintenance-free standard spherical plain bearings with ELGOGLIDE® sliding fabric are used for the main tilting mechanism of the tilt system, which can achieve a service life of more than 1.2 million kilometres. In highly dynamic rail car body stabilising systems (e.g. anti-roll bars) maintenance-free spherical plain bearings with specially developed bellows are used.
For more information, or to request your free copy of the brochure "Expertise in Bearing Technology and Services for Rail Vehicles" please contact Schaeffler UK's Communications & Branding Department on info.uk@schaeffler.com
About Schaeffler
The Schaeffler Group is a global automotive and industrial supplier. By delivering high-precision components and systems in engine, transmission, and chassis applications, as well as rolling and plain bearing solutions for a large number of industrial applications, the Schaeffler Group is already shaping "Mobility for tomorrow" to a significant degree. The technology company generated sales of approximately 14.2 billion Euros in 2018. With around 92,500 employees, Schaeffler is one of the world's largest family companies and, with approximately 170 locations in over 50 countries, has a worldwide network of manufacturing locations, research and development facilities, and sales companies. With more than 2,400 patent registrations in 2018, Schaeffler is Germany's second most innovative company according to the DPMA (German Patent and Trademark Office).
Follow us on Twitter @SchaefflerUK to get all of our latest press releases and news.
Publisher: Schaeffler (UK) Ltd
Country: United Kingdom
Share Page