Bearing technology for bridge builders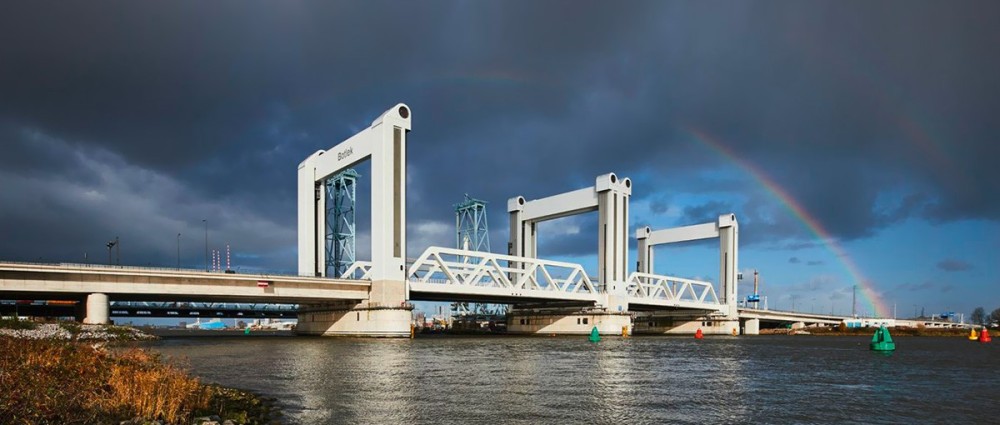 2019-06-28 | Sutton Coldfield
Bridges are sensitive structures. They become stressed by enormous forces, must withstand heat and freezing cold temperatures, and can also be exposed to storms and earthquakes. Often, hidden behind these steel and concrete bridges are impressive interiors that must deliver on their promises. This is where bearing technology from Schaeffler comes into play.
Around the world, plain bearings, cylindrical roller bearings and spherical roller bearings from Schaeffler are helping to ensure the stability and durability of buildings, sports arenas, man-made lakes and bridges. For centuries, these structures have physically connected urban neighbourhoods, islands and countries, as well as helping to bring different people and cultures together.
The first bridges were inspired by nature. In the wake of industrialisation, the addition of concrete and steel opened up new opportunities for bridge builders around the world. In many places today, aluminium alloys and carbon fibre reinforced plastics are also used. In 2019, the opening of the first 3D-printed bridge is planned in the Netherlands.
From swing to suspension bridges
Equally varied are the types of bridges that exist such as swing, bascule, rolling, draw, lift, suspension and cable-stayed bridges. Of all Europe's cities, Hamburg has the highest number of bridges – some 2,500 in total – more than Venice and Amsterdam combined.
Among existing bridges there are numerous masterful feats of engineering, joined by new ones such as the "Hong Kong-Zhuhai-Macau Bridge." This bridge is 55 kilometres long, built from 420,000 tonnes of steel, and is the world's longest sea crossing. The bridge connects Hong Kong and Macau to the Chinese mainland. This high-tech structure is said to withstand wind speeds of 200 km/h, 8.0-magnitude earthquakes and collisions with tankers and container ships of any size. Equally important is the near-50-kilometre bridge construction of the "Sheikh Jaber Al Ahmad Al Sabah Causeway" above Kuwait Bay. This structural behemoth is planned for completion in 2019.
Even longer, albeit mostly traversing land, is the Danyang-Kunshan Grand Bridge. 164 kilometres make it the longest bridge in the world. It meanders along the Yangtze River, spanning rivers, canals, canyons, creeks, plains, hills, lakes and rice paddies for the Beijing-Shanghai High-Speed Railway.
The operators of many bridges around the globe rely on large bearings from Schaeffler that provide high load ratings, low friction and high reliability, even in the most challenging environments.
In the "Puente de la Mujer" rotating footbridge, for example, which has become a landmark of Argentina's capital Buenos Aires, a single, maintenance-free axial spherical bearing from Schaeffler supports the bridge's entire weight of 800 tonnes.
The four pivot points of the "Porta d'Europa" bascule bridge in the port of Barcelona rest in large spherical plain bearings from Schaeffler with 670-millimetre bores. With a span of 106 metres, it is one of the world's largest double-leaf bascule bridges.
The twelve-lane "Van Brienenoord 2" freeway bascule bridge in Rotterdam, across which more than 250,000 vehicles travel each day, uses four spherical roller bearings from Schaeffler. They have 850-millimetre bores.
In the "Storebæltsbroen" bridge – one of the world's longest suspension bridges at 1,624 metres – between the Danish islands of Funen and Zealand, 12 spherical plain bearings from Schaeffler compensate for any oscillations caused by the wind and traffic.
In 2016, the "Osman-Gazi" bridge in Turkey was opened with support from Schaeffler. This all-steel bridge is located at a height of around 60 metres above the Sea of Marmara in the south of Istanbul. The area is regarded as particularly earthquake-prone, so the fourth-largest suspension bridge in the world was equipped with special technology that constantly withstands potential tremors, movements and stress. Schaeffler supplied 109 spherical plain bearings and 72 bushes for the areas in which individual bridge sections and bridge cables are connected to the foundations.
Bearings for rehabilitation projects
Schaeffler's specialists are not only focused on new projects but also on the rehabilitation or extension of existing bridges such as the "Botlek" vertical lift bridge in Rotterdam, which has had four freeway lanes added since 2015. This bridge across the Maas River is regarded as one of the largest lift bridges in the world. Massive electric motors via cables raise the two centre parts of the bridge within 109 seconds, 20 times a day. The bridge elements consist of some 10,000 tonnes of steel, concrete and asphalt – their weight is comparable to that of the Eiffel Tower. However, a year after the bridge was opened, experts noticed strange noises and vibrations. The original bearings in the 67 pulleys for the counterweight cables were not able to withstand the loads – a challenge that ideally suited Schaeffler. Using its Bearinx design calculation software, Schaeffler's experts from Schweinfurt and Höchstadt were able to calculate the exact position and type of bearings that were required to handle the huge loads of the movable bridge elements. Afterwards, every pulley was refitted with a specifically designed double-row cylindrical roller bearing, each with an outside diameter of almost one metre and a weight of 800kg.
Located some 2,000km southwest of Rotterdam is the "Puente de Rande," a cable-stayed bridge that, since 1981, has connected the towns of Redondela and Moaña in the Spanish region of Galicia. With a length of 1,604 metres, a main span of 401 metres and two pillars with a height of 118.6 metres, it was the first of its kind to be extended by two additional traffic lanes. Considering the surroundings and design characteristics, Schaeffler Iberia installed 140 maintenance-free spherical plain bearings with Elgoglide coatings. These ensure that the six lanes and the bridge are securely held together while 50,000 vehicles travel across it each day.
Cylindrical plain bushes
Many different types of bearings are suitable for bridge applications. Cylindrical plain bushes, for example, are particularly suitable for small swivel movements but also allow axial motion. As a result, these bearings are ideal for applications such as those found in the upper suspensions of the supporting cables of cable-stayed (suspension) bridges. Plain bushes from Schaeffler have high dynamic load ratings, deliver long service life and require minimal or zero maintenance.
Radial spherical plain bearings
In order to limit the forces of dynamic motion up to and including earthquakes in bridges and other architectural structures, large-size shock absorbers are used. These can be suspended from radial spherical plain bearings. These components combine the strengths of cylindrical plain bushes with the ability to compensate for swivel movements and tilting.
In contrast to the upper suspension points of the supporting cable, the lower mountings must also absorb the multi-directional pivotal movements emanating from the road. This means rather than using plain bushes at the top, the more agile radial spherical plain bearings are used.
Radial spherical rolling bearings
Radial spherical rolling bearings are ideal for systems with a greater range of motion such as bascule and swing bridges, where high radial loads occur in combination with axial loads. With a much more compact design than other rolling bearings, these are extremely strong and withstand extremely high loads. Alternatively, the folding and swiveling elements can be equipped with radial spherical plain bearings.
Radial spherical plain bearings with high dynamic load ratings and special coatings
The hydraulic cylinders in bascule and swing bridges must move extremely high loads. Radial spherical plain bearings with high dynamic load ratings and special coatings from Schaeffler ensure the required agility and maximum actuator reliability – even in the harshest of ambient conditions. Furthermore, these radial spherical plain bearings can be installed in the folding and swiveling elements as an alternative to radial spherical rolling bearings.
About Schaeffler
The Schaeffler Group is a global automotive and industrial supplier. By delivering high-precision components and systems in engine, transmission, and chassis applications, as well as rolling and plain bearing solutions for a large number of industrial applications, the Schaeffler Group is already shaping "Mobility for tomorrow" to a significant degree. The technology company generated sales of approximately 14.2 billion Euros in 2018. With around 92,500 employees, Schaeffler is one of the world's largest family companies and, with approximately 170 locations in over 50 countries, has a worldwide network of manufacturing locations, research and development facilities, and sales companies. With more than 2,400 patent registrations in 2018, Schaeffler is Germany's second most innovative company according to the DPMA (German Patent and Trademark Office).
Follow us on Twitter @SchaefflerUK to get all of our latest press releases and news.
Publisher: Schaeffler (UK) Ltd
Country: United Kingdom
Share Page