Schaeffler at the Paris Air Show 2019
Schaeffler reduces CO2 emissions in the aviation sector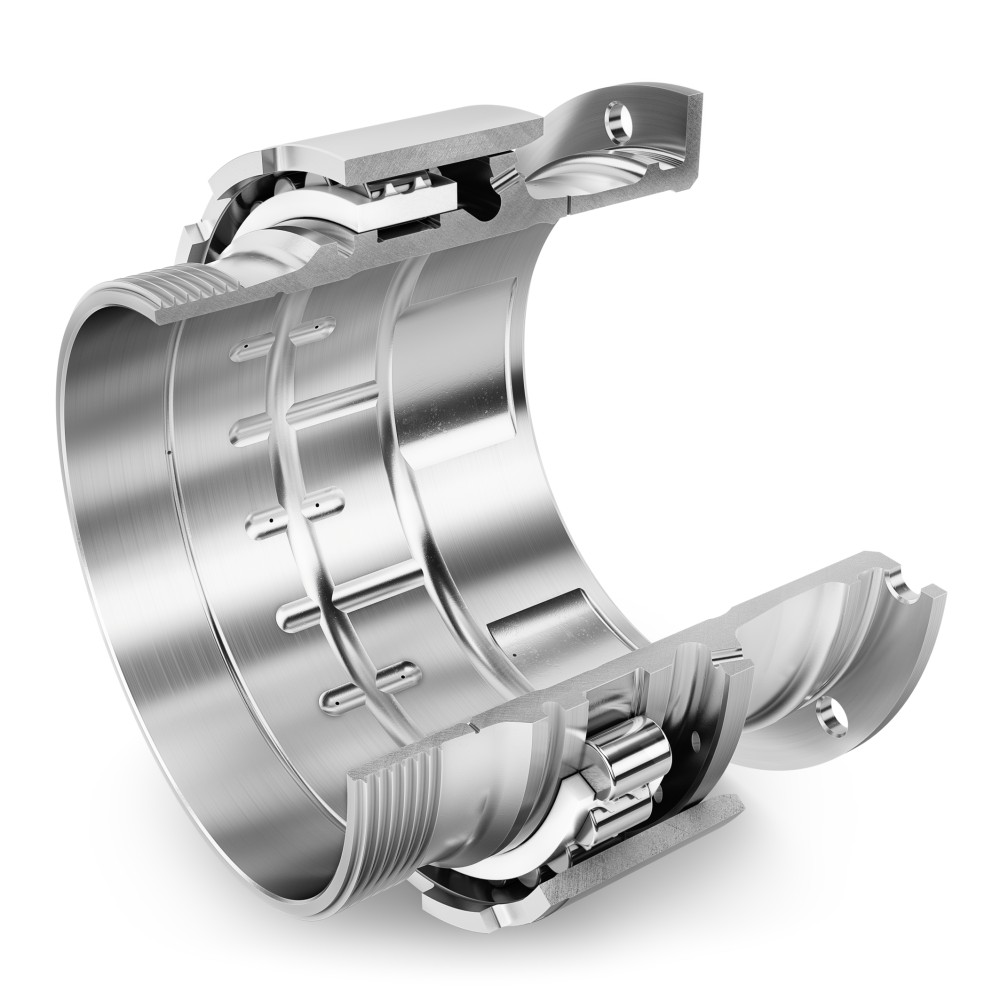 2019-06-24 | Sutton Coldfield
Sustainable: reconditioning of bearings lowers lifecycle costs and reduces CO2 emissions.
Increased system reliability: Schaeffler currently offers the highest performance combination of material and heat treatment.
Better performance and fuel economy: overall efficiency of aircraft engines increased due to Schaeffler systems.
SUTTON COLDFIELD, UK, June 24, 2019. Schaeffler Aerospace Germany presented a range of solutions for reducing carbon dioxide emissions in the aviation sector at the Paris Air Show 2019. From bearing reconditioning solutions for reducing CO2 emissions and costs, as well as innovative bearing materials for aircraft engines with higher speeds and thrust loads, through to bearing integration, visitors were impressed by Schaeffler's technology and systems expertise.
CO2 savings of 80 per cent due to reconditioning
In addition to the new development of innovative rolling bearing solutions for aviation and aerospace applications, Schaeffler Aerospace is also a leader in the reconditioning of aerospace bearings. Using two cylindrical roller bearings – one new and one reconditioned – from the "most frequently flown" aircraft engine in the world, the CFM56, which is installed in aircraft that include the Airbus A320, Schaeffler demonstrated that there is no technical difference for the operator between a new bearing and a reconditioned bearing.
The inner and outer rings in this bearing system are made from different special materials, the steel cage is silver-plated, and the cooling lubricant is supplied via lubricant ducts and grooves beneath the shaft. The reconditioning of such a complex system reduces its lifecycle costs and helps to protect the environment: a reduction in CO2 emissions of up to 80 per cent can be achieved by reconditioning bearings rather than manufacturing new ones.
The reconditioned bearings are also completely safe. This is because, as well as the most essential approvals from the FAA, EASA, and CAAC civil aviation authorities, official repair authorisations from engine manufacturers such as Pratt & Whitney, Rolls-Royce, GE, CFM, and IAE are also a prerequisite for consistently high system reliability. The reconditioning methods and quality inspections are directly monitored and audited by the engine manufacturers themselves. Schaeffler Aerospace is certified and approved according to the NADCAP and to AS9100 among others.
Better performance and increased system reliability
As a leading manufacturer of aircraft engine bearing supports, Schaeffler Aerospace is working with engine manufacturers to create new developments that increase engines' overall efficiency and thus reduce their fuel consumption.
New engines have to deliver better performance as well as higher speeds and thrust loads, which is why Schaeffler has developed special heat treatment methods for aerospace bearing steels. Schaeffler currently offers the aviation sector's highest-performance combination of material and heat treatment: a specially developed, case-hardened alloy with specific compressive residual forces in the case and a tough core that ensures outstanding system reliability in high-speed applications. Better bearing performance allows higher speeds to be achieved, resulting in better air compression and better performance without increasing fuel consumption – i.e. it saves fuel.
A matched system comprising eight main shaft bearings and 14 further engine components for the A380, including housing segments, seals and non-rotating integrator parts/bearing retainers, demonstrates Schaeffler's comprehensive systems expertise. The focus here is on bearing integration, i.e. the combination of several functions such as bearing support, damping and elastic suspension, lubrication and cooling. The integration of adjacent components into the bearing support means that material and therefore weight can be saved, lifecycle costs reduced, engines made more compact, and mounting work made safer and simpler.
Following the renaming of its legal entity from FAG Aerospace to Schaeffler Aerospace Germany in April 2019, the business unit made its first appearance under the Schaeffler name at the leading international aviation and aerospace trade show.
About Schaeffler
The Schaeffler Group is a global automotive and industrial supplier. By delivering high-precision components and systems in engine, transmission, and chassis applications, as well as rolling and plain bearing solutions for a large number of industrial applications, the Schaeffler Group is already shaping "Mobility for tomorrow" to a significant degree. The technology company generated sales of approximately 14.2 billion Euros in 2018. With around 92,500 employees, Schaeffler is one of the world's largest family companies and, with approximately 170 locations in over 50 countries, has a worldwide network of manufacturing locations, research and development facilities, and sales companies. With more than 2,400 patent registrations in 2018, Schaeffler is Germany's second most innovative company according to the DPMA (German Patent and Trademark Office).
Follow us on Twitter @SchaefflerUK and Twitter @SchaefflerGroup to get all of our latest press releases and news.
Publisher: Schaeffler (UK) Ltd
Country: United Kingdom
Share Page