Schaeffler electrifies commercial vehicles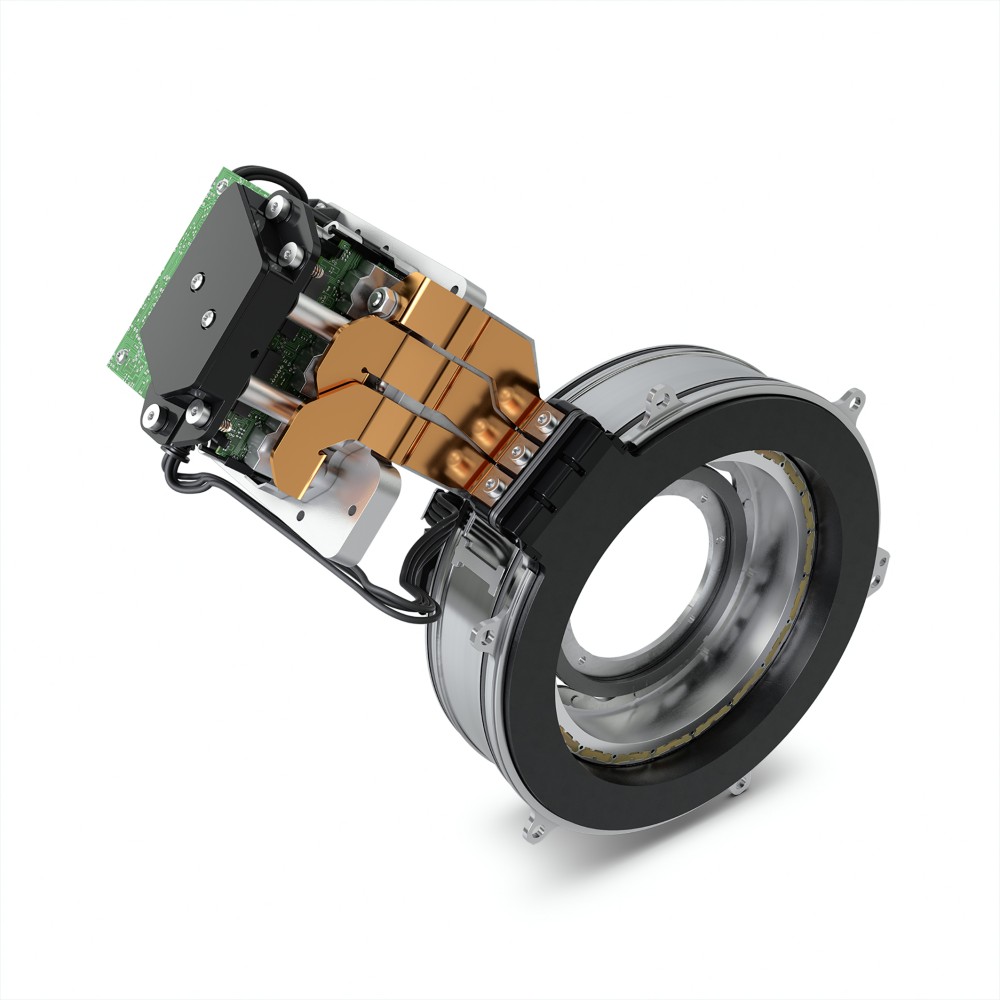 2019-06-13 | Sutton Coldfield
Modular system comprising E-Drive, Space Drive, and digitalisation paves the way for the electrification of commercial vehicles.
Expansion of product portfolio in the "Heavy Duty" sector.
Around 80 interested guests test drive-by-wire technology at the Schaeffler test track in Bühl.
SUTTON COLDFIELD, UK, June 13, 2019. Schaeffler is paving the way for the electrification of commercial vehicles with fuel cells, a modular system, the Space Drive drive-by-wire system, and digital solutions. With projects such as the Bio-Hybrid and the Schaeffler Mover, the automotive and industrial supplier has already demonstrated that when it comes to mobility for tomorrow, it is focusing on more than just passenger cars. Making a start in the electrification of commercial vehicles is the next logical step.
With its new activities in the "Heavy Duty" sector, Schaeffler will also offer solutions for the commercial vehicle market in the future that go far beyond the current portfolios of products for engines, transmissions, and chassis systems.
E-Drive: modular system enables solutions matched to space requirements
When electrifying vehicles from high volume production, suppliers are not only faced with issues relating to design space and power scaling – the conflict of objectives in terms of the range of variants and cost efficiency also needs to be solved in the best possible way. Schaeffler's answer to this is simple, yet effective: customer requirements can be fulfilled quickly and efficiently by means of the E-Drive, a modular system for electric drive systems. The E-Drive modular system comprises an electric motor, software and power electronics, which enables customer-specific system solutions for commercial vehicles – particularly with regard to functionality and optimum efficiency. The high modularity of the power electronics, which allows solutions to be matched to the design space of almost any requirement, deserves special attention.
Space Drive as the basis for level 4 and 5 autonomous driving
An important product for autonomous driving comes from Schaeffler Paravan Technologie GmbH & Co. KG. In addition to its drive and brake actuation function, the core element of the Space Drive – a leading drive-by-wire technology – is its steer-by-wire functionality, which enables safe and reliable vehicle steering purely by means of electronic control signals. Unlike other systems of this type, the Space Drive technology has a triple-redundant design and is currently the only system solution worldwide that meets the highest quality and safety requirements, in particular the strict ISO 26262 ASIL D functional safety standard. It is the only system of its kind to be licensed worldwide for on-road use, while at the same time having the potential for technical and commercial viability in high volume vehicle production. This technology also plays a major role in the autonomous and semi-autonomous driving of trucks (also called platooning), not least because of the individual application options that are available thanks to proprietary customisable software. The Space Drive technology is used in a total of 8,500 vehicles worldwide and over one billion kilometres have been covered with no accidents.
Technology makes a convincing case at the VDI knowledge forum
Around 80 interested guests, who accepted Schaeffler's invitation to visit Bühl, were given the opportunity to "experience" this technology live during the "Commercial Vehicles 2019 – Truck, Bus, Van, Trailer" VDI knowledge forum. At the site's test track, a Mercedes Benz Sprinter equipped with the Space Drive technology was available for testing. "The VDI knowledge forum is the ideal platform for us to present our performance capability for heavy-duty applications to expert visitors," emphasises Matthias Zink, CEO Automotive OEM at Schaeffler. "We are bundling and expanding our expertise with new activities in the field of commercial vehicles. Our reliable and cost-effective modules for engines, transmissions, and chassis systems are already known and sought-after throughout the industry, and we are convinced that our innovative products for the hybridisation and electrification of drive trains in commercial vehicles, such as the modular E-Drive system, will help our customers in meeting the ambitious emission limit values."
About Schaeffler
The Schaeffler Group is a global automotive and industrial supplier. By delivering high-precision components and systems in engine, transmission, and chassis applications, as well as rolling and plain bearing solutions for a large number of industrial applications, the Schaeffler Group is already shaping "Mobility for tomorrow" to a significant degree. The technology company generated sales of approximately 14.2 billion Euros in 2018. With around 92,500 employees, Schaeffler is one of the world's largest family companies and, with approximately 170 locations in over 50 countries, has a worldwide network of manufacturing locations, research and development facilities, and sales companies. With more than 2,400 patent registrations in 2018, Schaeffler is Germany's second most innovative company according to the DPMA (German Patent and Trademark Office).
Follow us on Twitter @SchaefflerUK and Twitter @SchaefflerGroup to get all of our latest press releases and news.
Publisher: Schaeffler (UK) Ltd
Country: United Kingdom
Share Page