Schaeffler bearing solutions for rail vehicle door systems ensure reliability, low maintenance and a long operating life
Bearing solutions for the rail industry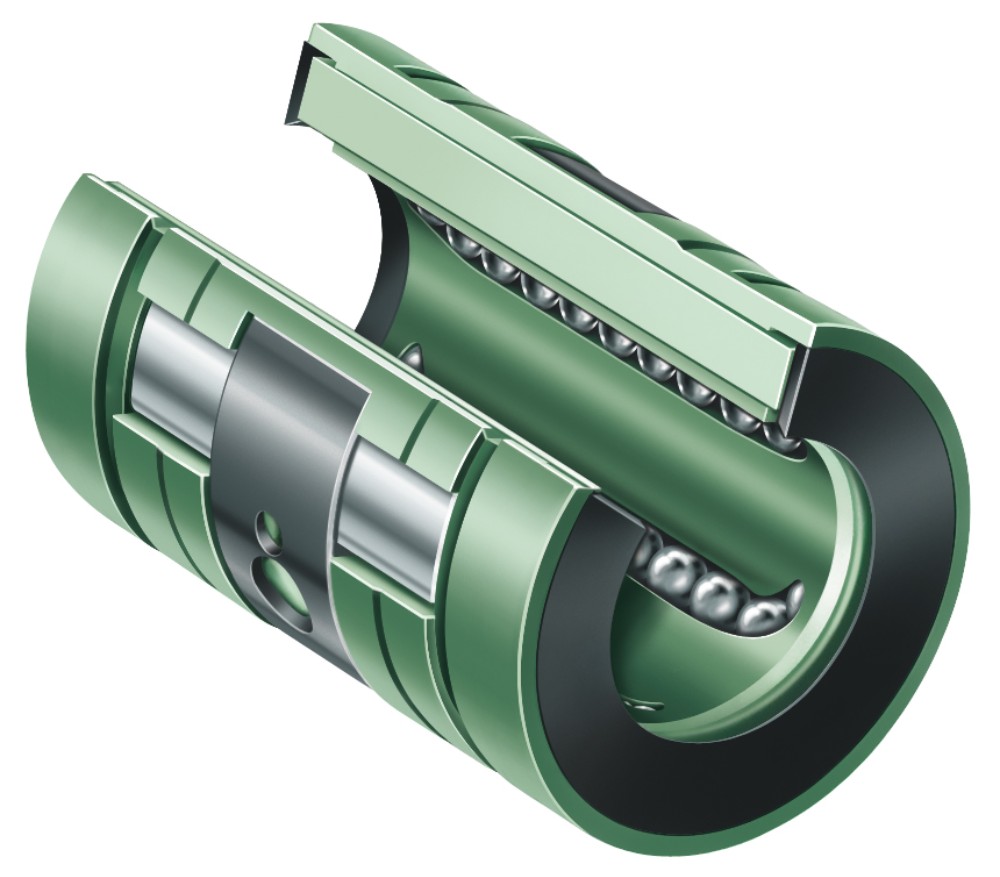 2019-06-06 | Sutton Coldfield
SUTTON COLDFIELD, UK, June 06, 2019. In rail passenger vehicles and freight cars, door systems are complex sub-systems that are subject to high loads and stresses. Door components such as bearings therefore need to be reliable to ensure long maintenance intervals. Schaeffler offers a wide range of rotary and linear bearings for door systems that meet all of these high requirements.
For passenger vehicles, manufacturers typically demand an operating life of more than 2.5 million operating cycles (opening and closing) for door systems, depending on the specific type of vehicle. The opening cycle often involves a swiveling outward motion and a linear opening motion of the wings of the door. The swiveling movements are safely carried out with maintenance-free spherical plain bearings and rod ends. In some applications, radial insert ball bearings with flanged housings are also used. Linear ball bearings or special track rollers support the linear motion.
For freight cars, when considering bearing technology for door systems, the focus is on robustness, a long operating life and low maintenance requirements. For example, in sliding door wagons and self-discharging cars, Schaeffler offers yoke type track rollers, track rollers, needle roller bearings and spherical plain bearings, which fulfill these high requirements. They are used for the mechanisms of shutters and covers, sliding devices and guidance systems to support moments as well as linkages and linkage bearing supports.
Linear ball bearings
Linear movements in rail vehicle doors must be carried out reliably. Here, smooth running linear ball bearings from Schaeffler provide a long operating life and the option of adjusting the angle if required. Depending on the design, these bearings compensate for misalignment and due to their compact dimensions and low radial section height, require very little installation space. They are available with or without seals, as well as Schaeffler's Corrotect® corrosion protection, depending on requirements.
Track rollers, yoke type track rollers and stud type track rollers
In sliding wall wagons, for example, Schaeffler offers track rollers and yoke type track rollers as complete units consisting of outer rings, inner rings, ball and cage assemblies, and seals. Stud type track rollers have an inner ring that comprises a stud, with which the bearing is fixed to the adjacent construction. These products are characterised by their high load carrying capacity, efficient seals and long operating times. Corrotect® corrosion protection further increases operating life. Plastic-covered outer rings can be supplied to reduce noise if required. When various track rollers are in use, the pressure on the mating track surface is considerably reduced by the special profile. Special outer ring contours are available that are particularly well suited to the harsh environmental conditions.
Radial spherical plain bearings/rod ends
Maintenance-free spherical plain bearings and rod ends with corrosion protection are often used in the bearing supports of doors in passenger rail cars. These can also be found in bulk freight wagons where severe contamination from dust and dirt occurs. Here, they are used as reliable, maintenance-free bearings for camlock shafts, tilting rods and shutters.
Split radial spherical plain bearings guide the camlock shafts in freight cars. The bearings are characterised by their long operating life and a high resistance to contaminants and insufficient lubrication. Another advantage is that the bearings can be easily replaced between the locking disc cams, which do not have to be removed from the locking shaft, which is several metres long. The split outer and inner rings simplify the mounting and replacement significantly.
For more information, or to request your free copy of the brochure "Expertise in Bearing Technology and Services for Rail Vehicles" please contact Schaeffler UK's Communications & Branding Department on info.uk@schaeffler.com
Follow us on Twitter @SchaefflerUK and Twitter @schaefflergroup to get all of our latest press releases and news.
Publisher: Schaeffler (UK) Ltd
Country: United Kingdom
Share Page