Schaeffler combines condition and torque monitoring in a single system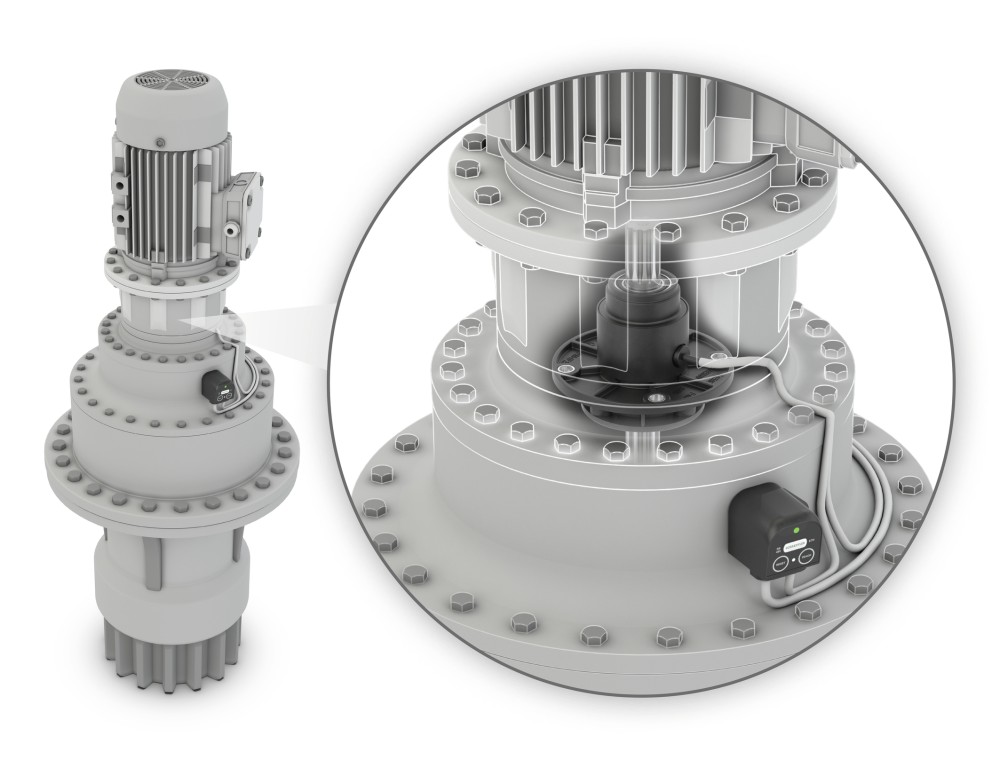 2019-05-29 | Sutton Coldfield
Industry 4.0 pilot project for the wind power industry presented in Hannover.
Innovative Torque Tracking system for individual drives.
Vibration analysis and torque monitoring combined in a single system.
Increased drive availability and longer maintenance intervals for customers.
SUTTON COLDFIELD, UK, May 23, 2019. The long term development partnership of Schaeffler and Bonfiglioli, a market leader in yaw and pitch drives for wind turbines, has led to the creation of a compact Industry 4.0 solution package. Schaeffler has combined two of its proven measurement systems – SmartCheck and TorqueSense – to create a new condition and torque monitoring system.
While the vibration diagnosis system of the Schaeffler SmartCheck detects incipient damage at a very early stage, peak loads and their frequency can also be detected and limited using the precise torque signal. Using algorithms based on its application expertise, Bonfiglioli converts this data into information throughout the entire life of a wind turbine. Therefore, online reporting on relevant performance indicators can be provided, e.g. the general "health" status of the geared drives, possible critical conditions, and abnormal behaviour of the yaw systems. Overall, customers benefit from reduced unplanned downtimes as a result of overloading or unexpected operational conditions of the system and load-based (i.e. generally longer) maintenance intervals due to predictive monitoring.
A clever combination
The Schaeffler SmartCheck performs frequency-selective condition monitoring of bearings, gearboxes, electric motors, pumps, fans and machines based on solid-borne vibrations. Conspicuous frequencies can be automatically attributed to the damaged component using only one Schaeffler SmartCheck. A temperature sensor is also integrated into the device. The torque signal and speed signal of the Schaeffler TorqueSense are sent, pre-processed and supplied to the machine control system and/or maintenance department with the vibration signals that are also analysed via the SmartCheck. The addition of operating data on torque and speed to the SmartCheck condition monitoring system opens up several new scenarios. In the simplest case, the system allows the monitoring of torque peaks and their frequency and therefore an evaluation of the utilisation level and the derivation of load-based maintenance measures. The signals can also be integrated into the operating strategy for drives and initiate torque limitation or shutdown functions.
The new system is particularly suitable for adjustment and rotary drives in the wind power and shipbuilding industries, in large cranes, construction and mining machinery with turrets, and for winches. The torque signal can be used for both monitoring and smooth and precise torque control and regulation of the pull cable.
Pilot project for the wind power industry
Schaeffler is currently developing an initial pilot project for Bonfiglioli geared motors of yaw drives for wind turbines. In this application, the load data that is condensed using the Schaeffler SmartCheck is compared with pre-defined limit values and the results are transmitted wirelessly to Bonfiglioli via a gateway. The monitoring system for Bonfiglioli geared motors operates independently and is not connected to the turbine's control system, making it very easy to retrofit when the geared motors are replaced.
With the new system, Bonfiglioli aims to monitor overloading of the yaw drives, increase the lead times for maintenance, and enable load-based instead of time-dependent maintenance procedures to be defined. The TorqueSense module is positioned between the motor and gearbox to integrate it into the flow of force of the geared motor. The measurement system is also fully functional in lubricating oil and offers significant advantages for integration into the drive train, including:
high measurement accuracy (approximately 1% of the measuring range) at an attractive price.
non-contact measurement principle.
no change in the load carrying capacity and torsional rigidity due to the sensor shaft.
temperature has minimal influence on the operating life and measurement accuracy.
integrated speed measurement.
Easy integration of torque sensor technology
Schaeffler TorqueSense comprises a magnetically conditioned section of shaft and a sensor housing. The housing does not have to completely surround the shaft. Designs that are mounted on one side only, or U-shaped designs, are possible depending on the required accuracy and interference immunity. As a non-contact measuring principle is used, the torque can also be measured from outside by using a non-magnetic housing. The sensor module can then be mounted from the outside. With Schaeffler TorqueSense, customer and application-specific shaft diameters up to approximately 100mm are possible; sensor units in different standard diameters already exist. The measuring range is from 100Nm to 20kNm. The sensors have high linearity and extremely small hysteresis due to the measuring principle used.
For more information, please contact Schaeffler UK's Communications & Branding Department on info.uk@schaeffler.com
About Schaeffler
The Schaeffler Group is a global automotive and industrial supplier. By delivering high-precision components and systems in engine, transmission, and chassis applications, as well as rolling and plain bearing solutions for a large number of industrial applications, the Schaeffler Group is already shaping "Mobility for tomorrow" to a significant degree. The technology company generated sales of approximately 14.2 billion Euros in 2018. With around 92,500 employees, Schaeffler is one of the world's largest family companies and, with approximately 170 locations in over 50 countries, has a worldwide network of manufacturing locations, research and development facilities, and sales companies. With more than 2,400 patent registrations in 2018, Schaeffler is Germany's second most innovative company according to the DPMA (German Patent and Trademark Office).
Follow us on Twitter @SchaefflerUK and Twitter @SchaefflerGroup to get all of our latest press releases and news.
Publisher: Schaeffler (UK) Ltd
Country: United Kingdom
Share Page