"OmniSteer" research project
Schaeffler researches innovative steering systems for electric mobility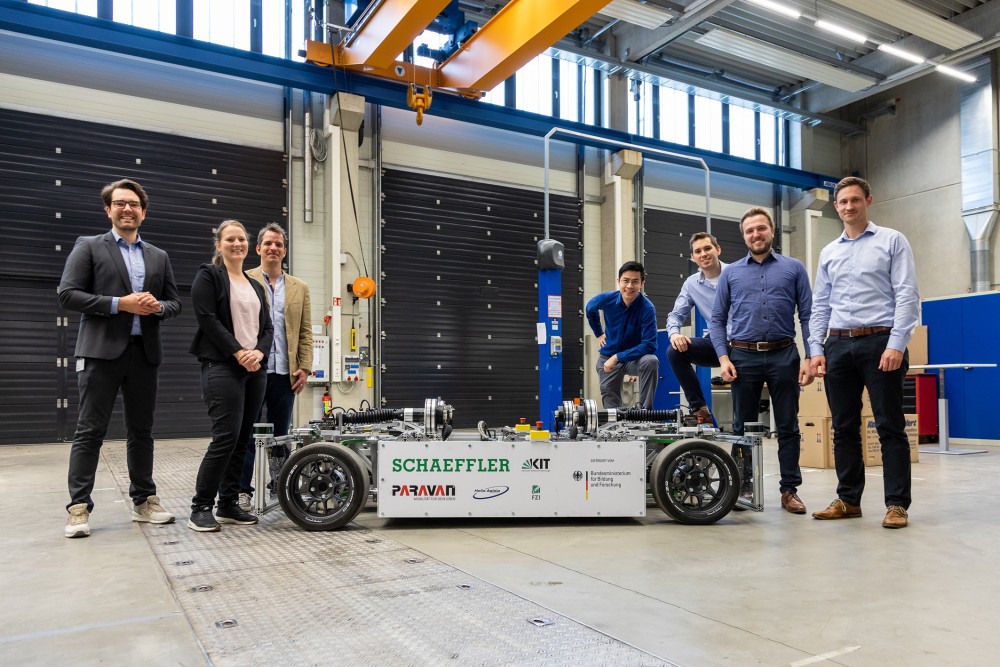 2019-05-14 | Sutton Coldfield
"OmniSteer" project set for a successful completion.
Fully automated parallel parking with no intermediate stops.
Outstanding maneuverability in the tightest of spaces due to the 'Schaeffler Intelligent Corner Module'.
SUTTON COLDFIELD, UK, May 14, 2019. For automotive and industrial supplier Schaeffler, electric mobility is one of the most important innovative driving forces for the future. Against this background of increasing vehicle electrification and automation, Schaeffler has been working with several project partners to develop concepts and prototypes for new steering systems in urban applications. After three years, the "OmniSteer" project group, which received a subsidy of 1.9 million euros from the German Federal Ministry of Education and Research, is set for a successful completion.
Omni stands for orthogonal and multi-directional driving maneuvers and non-linear (German: "nichtlineare") steering. In combination with the "Schaeffler Intelligent Corner Module" and innovative wheel suspension that allows wider steering angles, functionally reliable mechatronic lateral and transverse (distance and lane) guidance systems have been developed, which will make greater vehicle maneuverability possible in the future.
"For us, OmniSteer is a very valuable project from which we have generated a wealth of knowledge that will be put to use during the subsequent development of products for automated driving," explained Prof. Dr.-Ing. Tim Hosenfeldt, Senior Vice President Innovation and Corporate Technology at Schaeffler.
The basis: electric wheel hub drives
Schaeffler's E-Wheel Drive electric wheel hub drive is the optimum solution for the mobility of tomorrow. "The initial prerequisite for OmniSteer is the electrification of the drive train and, in a subsequent step, the corresponding integration of the drives into the wheels," explained project manager Dr. Paul Haiduk. The extremely compact drive opens up entirely new application areas in urban mobility.
Parking is a key area: "The major advantage of having a wheel steering angle of 90 degrees in each direction and wheels that can be steered individually, is that it's possible to transition from driving in a straight line to parallel parking, without any intermediate stops along the way," added Haiduk. Depending on the situation, the driver can switch between front-wheel, rear-wheel, and all-wheel steering. Even turning on the spot is possible.
OmniSteer received a subsidy of 1.9 million euros from the German Federal Ministry of Education and Research and was carried out over the last three years as part of the SHARE (Schaeffler Hub for Automotive Research in E-Mobility) research cooperation at the Karlsruhe Institute of Technology (KIT). A consortium made up of several participants worked on the project. In addition to Schaeffler, these included Paravan GmbH (the world's market leader in the field of innovative vehicle conversions for people with disabilities) and Hella Aglaia Mobile Vision GmbH (a leader in the development of intelligent visual sensor systems) in addition to the KIT's information technology research centre (FZI) and institute of vehicle systems engineering (FAST).
For more information, please contact Schaeffler UK's Communications & Branding Department on info.uk@schaeffler.com
About Schaeffler
The Schaeffler Group is a global automotive and industrial supplier. By delivering high-precision components and systems in engine, transmission, and chassis applications, as well as rolling and plain bearing solutions for a large number of industrial applications, the Schaeffler Group is already shaping "Mobility for tomorrow" to a significant degree. The technology company generated sales of approximately 14.2 billion Euros in 2018. With around 92,500 employees, Schaeffler is one of the world's largest family companies and, with approximately 170 locations in over 50 countries, has a worldwide network of manufacturing locations, research and development facilities, and sales companies. With more than 2,400 patent registrations in 2018, Schaeffler is Germany's second most innovative company according to the DPMA (German Patent and Trademark Office).
Follow us on Twitter @SchaefflerUK and Twitter @schaefflergroup to get all of our latest press releases and news.
Publisher: Schaeffler (UK) Ltd
Country: United Kingdom
Share Page