Schaeffler at the Hannover Fair 2019
Finished in a matter of seconds: insert, drive in, and the job is done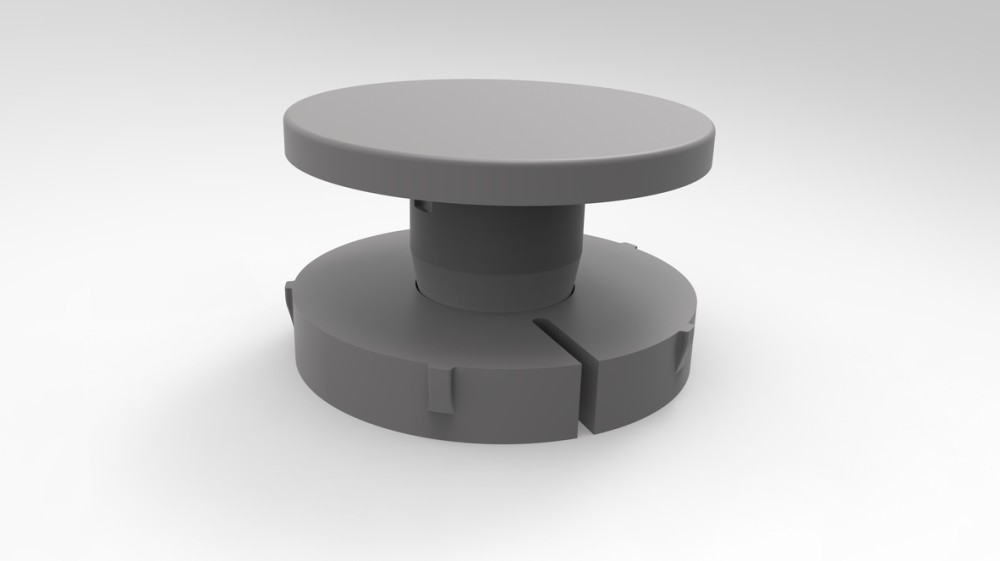 2019-04-23 | Sutton Coldfield
Outstandingly fast and secure mounting of Schaeffler's profiled guide rails due to new patented closing plugs
Innovative closing plug design reduces mounting time by more than fourfold compared to other systems.
Wall and overhead mounting of profiled guide rails is made significantly easier.
SUTTON COLDFIELD, UK, April 23, 2019. Closing plugs for profiled guide rails must perform significantly more functions than may at first be apparent. The top priority for many customers is fast and simple mounting, a minimal annular gap between the plug and guide rail surfaces, and a high retaining force.
Schaeffler has fulfilled these essential customer requirements with its new, patented KA-TN/B closing plugs. The KA-TN/B plastic closing plugs have a special feature: the plastic plug is joined to the respective component using a clinch ring. Mounting the closing plug simply involves inserting it into the bore and then driving it in until it is flush with the surface. There is a predetermined breaking point between the clinch ring and the plug, which comes loose when the plug is driven in, while small clamping lugs on the clinch ring hold the closing plug securely in position in the bore.
This innovative design now makes it possible to manually place several closing plugs into the bores and drive them in one by one in a single working step. This reduces mounting times more than fourfold compared to other systems.
This means the previously very complex tasks of wall and overhead mounting no longer pose a problem. Any tilting of the closing plug while it is being driven in is virtually eliminated by the clinch ring's guidance. The small dimensions of the annular gap between the closing plug and the counterbore make it almost impossible for fluids and contamination to accumulate there, ensuring that the guide carriage is well-sealed.
For more information, please contact Schaeffler UK's Communications & Branding Department on info.uk@schaeffler.com
Follow us on Twitter @SchaefflerUK and Twitter @schaefflergroup to get all of our latest press releases and news.
About Schaeffler
The Schaeffler Group is a global automotive and industrial supplier. By delivering high-precision components and systems in engine, transmission, and chassis applications, as well as rolling and plain bearing solutions for a large number of industrial applications, the Schaeffler Group is already shaping "Mobility for tomorrow" to a significant degree. The technology company generated sales of approximately 14.2 billion Euros in 2018. With around 92,500 employees, Schaeffler is one of the world's largest family companies and, with approximately 170 locations in over 50 countries, has a worldwide network of manufacturing locations, research and development facilities, and sales companies. With more than 2,400 patent registrations in 2018, Schaeffler is Germany's second most innovative company according to the DPMA (German Patent and Trademark Office).
Publisher: Schaeffler (UK) Ltd
Country: United Kingdom
Share Page