E-mobility is the innovation driver for Schaeffler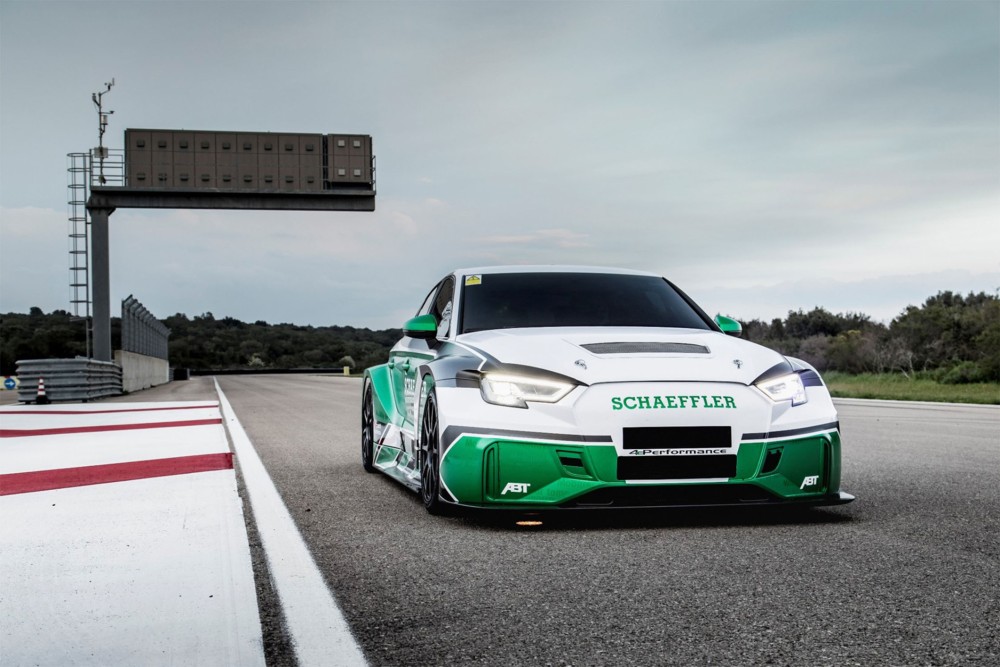 2018-12-20 | Sutton Coldfield
Schaeffler to showcase smart components and system solutions.
Schaeffler 4ePerformance: all-electric 1,200-hp concept vehicle.
Customer-focused: hybrid module for American top sellers.
SUTTON COLDFIELD, UK, December 20, 2018. Electric mobility is one of the key forward-thinking topics at CES 2019. Automotive and industrial supplier Schaeffler predicts that in 2030 some 30 per cent of all newly registered passenger cars will be fully electric, 40 per cent propelled by hybrid powertrains (i.e. a combination of a conventional IC engine and an electric motor) which means 70 per cent of all passenger cars will be using at least one electric motor as a source of propulsion. At CES, Schaeffler will showcase exhibits ranging from a hybrid module through to the 1,200-hp Schaeffler 4ePerformance concept car, which demonstrate how fascinating and sustainable electric mobility solutions from Schaeffler can be.
E-mobility products from Schaeffler have long made their way into production cars
Alongside digital transformation and IIoT, Schaeffler views electric mobility as an integral component of its forward-thinking "Agenda 4 plus One" programme – as one of the key innovation drivers going forward – and has consolidated all of its activities in this field in its new "E-Mobility" business unit. By 2020, Schaeffler will have invested more than 500 million euros in research, development and production of electric drive units. Schaeffler has long begun to mass-produce components and system solutions such as e-axles and hybrid modules. A transmission specifically for electric vehicles, of which there are one each at the front and rear axles of the new Audi e-tron, enables a particularly efficient all-wheel drive system with smart control technology. In normal drive mode, only the electric motor on the rear axle is active. If the driver requires higher output via the accelerator pedal or the system detects slip on the rear wheels, the front axle drive is additionally activated.
Schaeffler hybrid module for American top sellers
At CES, Schaeffer will showcase a hybrid module enabling OEMs to electrify the pick-up trucks that are particularly popular in the US marketplace. The compact P2 hybrid module fits between the IC engine and the transmission, which makes it suitable for integration into existing vehicle concepts too. It enables both a boost function and "coasting" with the IC engine shut off, as well as all-electric driving. Consequently, the hybrid module shown at CES enhances both fuel economy and driving pleasure.
E-axle for agile handling
The e-axle developed by Schaeffler offers even greater versatility. It can be used either as a stand-alone unit or extend an existing front- or rear-wheel drive into a fully-fledged all-wheel drive system. The power output with wheel-selective control is another benefit. Due to torque vectoring, a distribution of torque between the right and left wheels, safety, driving dynamics and ride comfort are noticeably enhanced. Consequently, the e-axle presented at CES offers efficient driving dynamics interventions for hybrid and battery-electric vehicles.
Fascinating e-mobility: the Schaeffler 4ePerformance concept vehicle
In the form of the Schaeffler 4ePerformance concept vehicle, Schaeffler has put a particularly fascinating ambassador of electric mobility on wheels, which will be another highlight at Schaeffler's stand at CES. The 4ePerformance provides a fine example of technology transfer from racing into a near-production drive concept. The fully electric vehicle uses four Formula E motors with a total power output of 880kW (1,200hp). They were adopted from the ABT Schaeffler FE01 Formula E race cars and, like the car's power electronics, were developed by Schaeffler's subsidiary Compact Dynamics. All four motors were used for the full second Formula E season. For Schaeffler, the electric racing series is an ideal test laboratory for the development of electric mobility technologies and ideally fits the company's "Mobility for tomorrow" strategy with which the globally active technology group is helping to shape the future of mobility.
Schaeffler benefits from experience in conventional powertrain technology
In the development of electric powertrain components, Schaeffler benefits from the experience the company has gained in conventional powertrains with IC engines, for example, in digital simulation. The know-how gained from the development of starting elements such as the torque converter or the double-clutch, broadens the development and manufacturing expertise available at Schaeffler. Consequently, combined with its technology expertise, paired with comprehensive systems understanding, Schaeffler is already in a position today to offer its partners fully developed components and system solutions in the field of electric mobility. At the same time, Schaeffler is continually expanding its areas of expertise. Through the acquisition of Elmotec Statomat GmbH, the leading producer of manufacturing machines for mass production of electric motors, Schaeffler is closing the last gap in manufacturing complete electric systems including electric motors produced in-house.
Visit us at CES, Central Plaza, Booth 25.
You can also watch the press conference live on January 6th, 2019, at 9pm.
Follow @SchaefflerUK and @SchaefflerGroupon Twitter for more information and updates.
Publisher: Schaeffler (UK) Ltd
Country: United Kingdom
Share Page