Schaeffler and Perpetuum plan a flat rate for axlebox bearings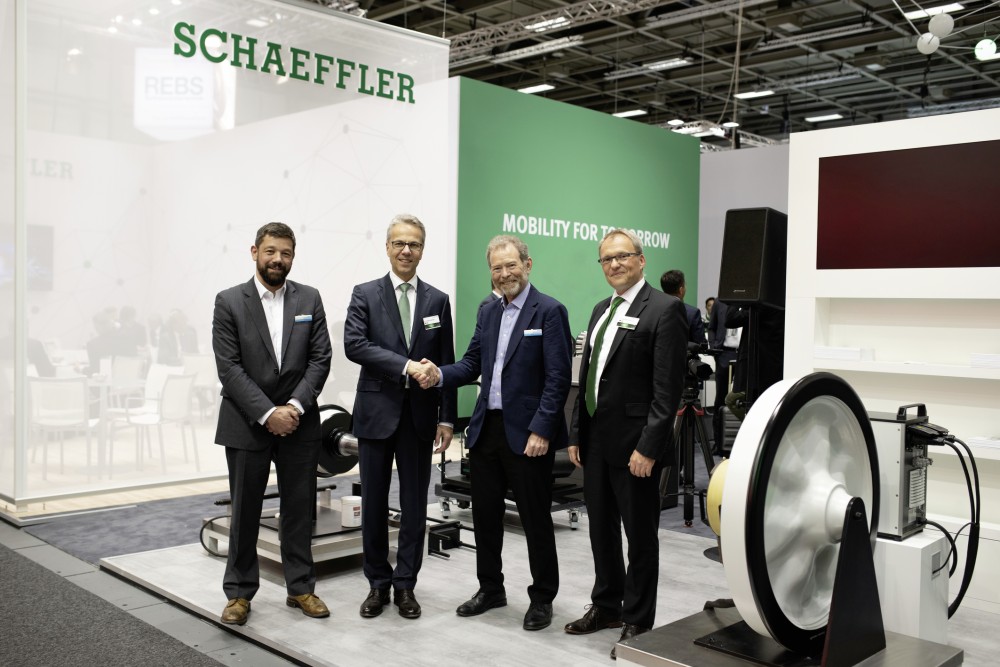 2018-11-15 | Sutton Coldfield
Letter of intent for cooperation signed by Schaeffler and Perpetuum
No purchase necessary: new mileage-based payment model for axlebox bearings
Significantly longer maintenance intervals and reduced operating costs
Digital solution allows mileage of Schaeffler bearings to be guaranteed
SUTTON COLDFIELD, UK, November 15, 2018. Schaeffler AG and Perpetuum, a remote condition monitoring systems specialist in the rail sector, plan to revolutionise axlebox bearing maintenance. At InnoTrans 2018, the two companies signed a letter of intent to cooperate with the aim of offering a mileage/kilometre-based payment system for axlebox bearings. This solution will make axlebox bearings available to operators by the kilometre or mile and will guarantee achievement of the planned maintenance intervals. This will reduce operating costs and enable them to be precisely planned, as well as significantly increasing rail vehicles' availability. A further advantage is that the combination of axlebox bearing condition monitoring and Schaeffler's rolling bearing expertise will allow the maintenance intervals to be significantly extended.
Dr. Stefan Spindler, CEO Industrial at Schaeffler, emphasised the significance of this cooperation: "The sale of operating hours instead of engines has long proven to be an effective solution in the civil aviation sector, and together with Perpetuum, we are now set to bring the same solution to the rail industry. The negotiations currently taking place with various operators show that we have hit on exactly what the sector is looking for with this business model."
Steve Turley, CEO of Perpetuum added: "We are focused on revolutionising the rail industry by helping clients to improve performance and efficiency, minimise disruptions, and deliver seamless passenger experiences, while also benefiting from significant cost savings. We are delighted to be working with Schaeffler in providing the market with commercial, as well as technical, innovation."
Perpetuum will contribute its battery-free wireless condition monitoring systems, which can easily be retrofitted in existing rail vehicles included in this cooperation. The "Bearing Health Index" that is digitally generated using Perpetuum analytics will be augmented by the rolling bearing expert Schaeffler with information about the bearings' remaining operating life – based on, for example, axlebox bearings returned from the field for reconditioning – and maintenance measures that are actually required; Schaeffler will also organise the timely provision of replacement parts.
For more information, please contact Schaeffler UK's Communications & Marketing Department on info.uk@schaeffler.com
Follow us on Twitter: @SchaefflerUK to get all of our latest press releases and news.
Publisher: Schaeffler (UK) Ltd
Country: United Kingdom
Share Page