MOUNTING TOOLBOX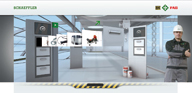 Mounting made easy:
The Schaeffler Mounting Toolbox brings together valuable knowledge relating to the mounting and dismounting of rolling bearings.
Enter the Virtual Plant
Mounting Toolbox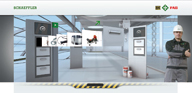 Mounting made easy:
The Schaeffler Mounting Toolbox brings together valuable knowledge relating to the mounting and dismounting of rolling bearings.

Enter the Virtual Plant
PUBLICATIONS
Catalogue | 2015-07
Mounting and Maintenance of Rolling Bearings
Products Services Training
CONTACT
CONTACT
If you would like more information please contact us using the details provided below:
Tel. 0121 313 5870

info.uk@schaeffler.com
INA/FAG Products
Services
Schaeffler offers, irrespective of the manufacturer of the bearing arrangement, a wide range of services relevant to the lifecycle of a rolling bearing: starting with mounting and progressing through maintenance to the reconditioning of rolling bearings.
During the operational phase, the Schaeffler experts provide support through services in the fields of condition monitoring and corrective maintenance. Companies that wish to build up their knowledge in the areas of rolling bearings and condition monitoring also have access to the Schaeffler training and consultancy portfolio on site, centrally or online. Our e-learning portfolio on the Internet provides the first steps into this field. In this way, customers benefit from the expertise of a leading supplier of rolling and plain bearings.